Grandmother: 'Nobody' responsible for Jordan Burling death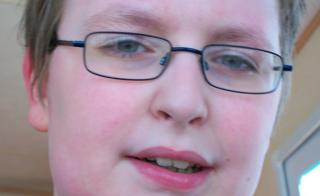 The grandmother of an 18-year-old man who died after being found in an emaciated state told police "nobody" was responsible for his death.
Jordan Burling weighed less than six stone (37kg) and died after going into cardiac arrest at his home in 2016.
In police interviews, Denise Cranston said her grandson could be "stubborn" and would have rejected a doctor if one had been called to their home in Leeds.
His mother, grandmother and sister deny manslaughter.
Read more stories in West Yorkshire
Leeds Crown Court heard transcripts from multiple police interviews with Mrs Cranston held at Elland Road Police Station following her arrest.
She said her grandson's health deteriorated about three months prior to his death on 30 June.
"He went to the toilet one day and said something had cracked in his leg, he then decided he wasn't going to walk," Mrs Cranston told police.
His grandmother said they then had to make a makeshift bed for him in the lounge of their Farnley home due to his immobility and he had to wear adult nappies.
His mother Dawn Cranston, 45, Jordan's grandmother Denise Cranston, 70, and his sister Abigail Burling, 25, all deny killing Jordan.
They also deny an alternative count of causing or allowing the death of a vulnerable adult.
The jury heard Mr Burling had bedsores on his hips and back, with Mrs Cranston telling police they attempted to provide treatment by washing them with salt water and covering them with sanitary towels.
The grandmother said a negative experience in about 2013 where Jordan was turned away from a GP surgery because they arrived "a minute late" meant he would have rejected a doctor's help.
She said: "I think we just got on with it, Dawn and me, we did [Jordan's care] between us because he wouldn't have entertained a doctor.
"We did discuss it, but Jordan would just shut up shop."
When officers asked Mrs Cranston if she was responsible for the death she replied "no". When pushed on who was accountable, she told police "nobody".
The court earlier heard a statement from Sgt Daniel Holbrook, who was one of the officers called to Mr Burling's home after his death.
His reaction to seeing Mr Burling's condition was described as one of "shock" as he could "literally see his bones through the skin".
The trial continues.