Kirklees bin workers to take strike action in July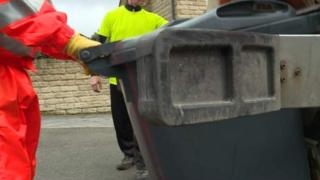 Bin collectors in West Yorkshire are to stage a week-long strike in July in a row with a council over claims of bullying and harassment.
It is part of an ongoing dispute in Kirklees over claims some workers have been refused leave to help dying relatives or sick children.
Kirklees Council said that representatives from Unison had "walked out of planned talks".
The action by members of Unison is due to take place between 2 and 8 July.
More on this story and others in West Yorkshire
The union has called for the council to employ an "adequate" number of bin collectors and arrange manageable bin rounds so staff can use their holiday allowances.
Paul Holmes, from Unison, said: "We had a meeting with ACAS on 16 May and as a result of that meeting we called the strike off.
"Since then things have gone backwards, the situation is worse now than before 16 May and there's more bullying.
"Members unanimously agreed to take strike action and so from midnight on Sunday 2 July we will be on strike."
The authority said it had previously reached an agreement with the union "over holidays, workloads, working practices and allegations of harassment and bullying".
But it said the union had made an "unreasonable demand" regarding how the council manages an individual member of staff as a condition of further talks going ahead.
A spokesman said: "This was completely unacceptable.
"Management practice will always be a matter for the council and its own managers, in line with our policies and procedures, and having regard for our duty of care to all staff."
It added services to residents and businesses was "our number one priority".