Jordan Burling death: Teen had 'lowest BMI doctor had seen'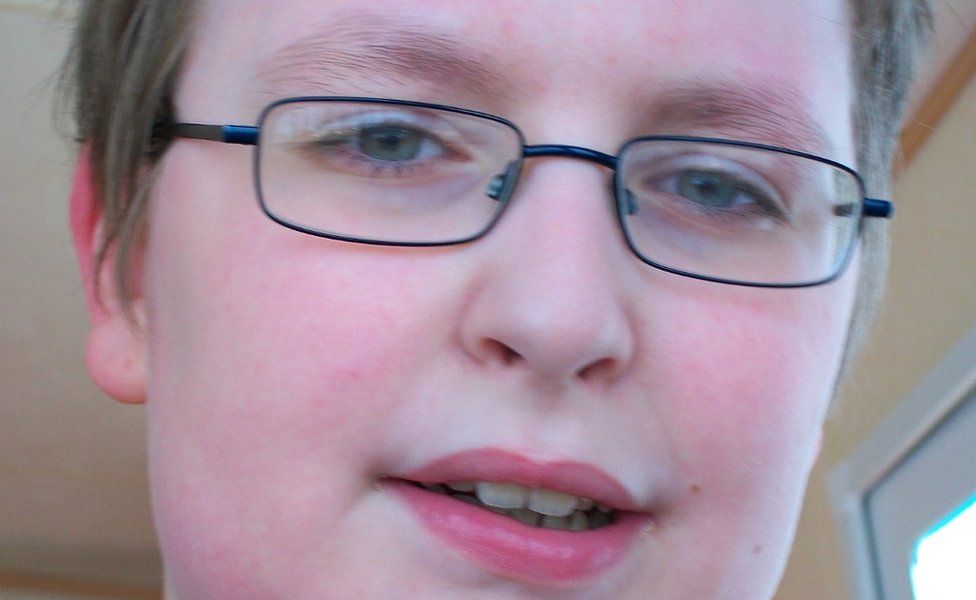 An emaciated 18-year-old man who died in his Leeds home had the lowest body mass index (BMI) an experienced dietitian had ever seen, a court heard.
Jordan Burling died after going into cardiac arrest in the lounge of his house in Farnley, Leeds, in June 2016.
Leeds Crown Court heard height and weight measurements taken during his post-mortem examination revealed a BMI of 13.6, which is of "severe thinness".
His mother, grandmother and sister deny manslaughter.
The court heard evidence from Jacqueline Lowdon, an NHS dietitian of 26 years with experience of treating severe eating disorders.
As Mr Burling had not had any health assessments in recent years, she had to work with figures from the post-mortem examination along with anecdotal evidence from his family, the court heard.
Mr Burling's mother Dawn Cranston, 45, grandmother Denise Cranston, 70, and his sister Abigail Burling, 25, all deny killing him.
They also deny an alternative count of causing or allowing the death of a vulnerable adult.
No symptoms connected to eating conditions such as anorexia or bulimia were recorded in Jordan's case and gastro-intestinal diseases including coeliac and Crohn's were also ruled out.
She estimated he had experienced "at least six months of malnutrition" and was satisfied there was "nothing medically" that could have caused his condition.
When asked by Nicholas Lumley QC, prosecuting, what treatment Mr Burling would have required, she told the jury he would have had to take on nutritional fluids very slowly to avoid the potentially fatal effects of "re-feeding syndrome" where a starved patient is given too much nutrition too quickly.
Dr Lowdon said an adult male patient of Mr Burling's BMI would have required an initial 185 calories a day, with a healthy adult male requiring up to 3,000.
When asked if she had ever studied a patient with such a degree of malnutrition, she replied: "No I haven't.. I've never seen anyone with such a low BMI as this."
Mr Lumley told Dr Lowdon a relative of Mr Burling had commented Jordan looked like a "World War Two concentration camp" victim and asked her if this was fair.
She replied: "Yes it is, that's where re-feeding came from.
"Prisoners from camps were fed and started to die, that's where we found out about re-feeding syndrome."
On Wednesday, the court heard the cause of his death was "acute bronchopneumonia", which is likely to have been caused by his malnutrition, his immobility and his infected sores.
Related Internet Links
The BBC is not responsible for the content of external sites.