Man who died after police chase nearly killed years before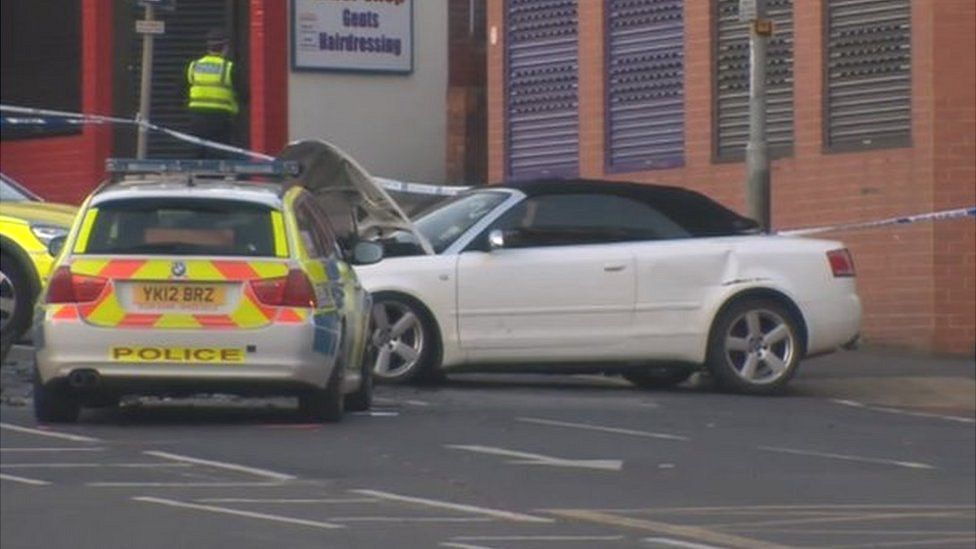 A man who died after a crash during a police pursuit was nearly killed in similar circumstances five years earlier, an inquest has heard.
Tesfa Hughes, 26, died after a collision between the black Volkswagen Golf he was driving and a white Audi in Roundhay Road, Leeds, in May 2015.
A witness said he had seen the Golf being driven in a "ridiculous manner".
Mr Hughes' father told the inquest in Wakefield his son had a distrust of the police after a crash in 2010.
In the earlier crash Mark Hughes said Tesfa had been riding a motorbike which was being pursued by police when it crashed, resulting in his son losing an eye, smashing bones in his arms and legs and suffering from head injuries.
He told the jury: "He felt upset about that situation. As far as I'm aware he tried to stay clear of them [the police]."
He said: "Why is he being pursued at 100mph at that time of the day? I just don't understand. Two wrongs don't make a right."
He told the court: "I feel that Tesfa was more likely to be alive if he wasn't aggressively pursued. I'm surprised a lot more people weren't injured because it was just crazy."
Witness Jay Puente told the court he saw the black Golf driving at speed on the wrong side of the road in Regent Street, just north of Leeds city centre.
He said he saw a police car following it.
Mr Puente described how the Golf hit a pedestrian, knocking him to the floor as it was going around one corner.
He said: "I did feel he was driving in a ridiculous manner."
He said the driving made him angry, especially because he had young children in the car.
The inquest heard how Mr Hughes was seen to get out of the car and run to a nearby cafe. He was treated there before being taken to hospital where he died.
The inquest is expected to finish next week.
Related Internet Links
The BBC is not responsible for the content of external sites.