Smoke alarm 'would have saved Huddersfield fire-death boys'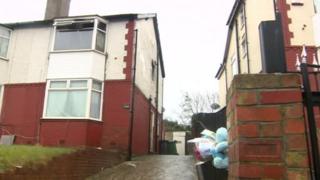 A house fire which killed two boys was "eminently avoidable", had the letting agent provided smoke alarms, a court has heard.
Three-year-old Logan Taylor and his brother Jake, two, died in the blaze in Fartown, Huddersfield in February 2016.
Property manager Kamal Bains, 51, of Stableford Gardens in Birkby, is on trial charged with their manslaughter.
The jury heard Mr Bains was responsible for an "inexcusable failure" to fit smoke alarms in the rented house.
He ignored "repeated pleas" from the boys' mother Emma Taylor to install alarms, the jury at Leeds Crown Court heard.
Ms Taylor and partner Jamie Casey repeatedly asked for alarms from the day they moved in to the semi-detached house on Alder Street in April 2015, prosecuting barrister Allan Compton said.
She specifically asked about alarms because a fire started at a previous property when her eldest child put a tea-towel on a gas ring.
'Worst house'
Mr Bains was director at now-defunct Prime Property Estates (Yorkshire), which maintained 140 homes in Huddersfield on behalf of private landlords for 10% of the rent.
After the fire he told police smoke alarms were installed, but fire investigators found no trace, the court heard.
He also said the house was the "worst on his books" and the jury heard it was in a "poor state" when the family moved in, with a mouldy kitchen, condemned gas fire and cracked plugs.
Fire investigators found the blaze started with an electrical fault in a TV in the boys' bedroom.
The court heard conditions would have been "untenable" 17 minutes after the TV caught alight.
Tests showed a smoke alarm on the upstairs landing would have sounded 11 minutes after ignition, giving Ms Taylor five minutes to rescue her children.
Instead, the court heard that Ms Taylor's "desperate" attempts to rescue her sons were unsuccessful when she was beaten back by smoke and flames.
Mr Bains denies two counts of manslaughter and one Health and Safety at Work offence.