Mother describes 'awful tragedy' of boys' fire deaths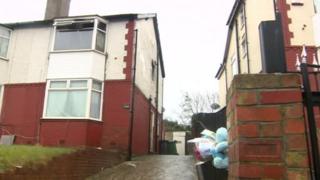 A woman whose two sons died in a fire at their home which had no smoke alarms does not think she will recover from the "awful tragedy", a court heard.
Three-year-old Logan Taylor and his brother Jake, two, died in the blaze in Fartown, Huddersfield in February 2016.
An impact statement from Emma Taylor was read to Leeds Crown Court during a sentencing hearing for Kamal Bains.
Bains, head of a property firm which managed the rented home, has admitted breaching health and safety law.
Read more West Yorkshire stories
The 51-year-old had been on trial accused of manslaughter over his alleged failure to provide smoke alarms for the property, but these charges were later dropped.
On Monday he pleaded guilty to breaching health and safety law.
In her statement, Ms Taylor said: "I don't think I will ever recover from this awful tragedy. The worst thing is I won't get to see my boys grow up."
Discussing the impact on the boys' surviving brother, father Jamie Casey said in his statement: "How do you explain to an eight-year-old that they're not coming home?"
During the trial, Ms Taylor told a jury she asked Bains "time after time" to fit fire alarms at the house he managed in Alder Street.
Ms Taylor previously said: "I was fed up with my kids living in danger because he can't be bothered to fit a smoke alarm.
"He said he would do it but he never did."
Mr Bains was director at now-defunct Prime Property Estates (Yorkshire), which maintained 140 homes in Huddersfield on behalf of private landlords for 10% of the rent.
Fire investigators found the blaze at the three-bedroom semi-detached house started with an electrical fault in a TV in the boys' bedroom.
Bains told police smoke alarms had been installed, but fire investigators found no trace, the court previously heard.
Prosecutor Allan Compton said the deaths were "eminently avoidable" and told the jury tests showed Ms Taylor would have had time to rescue her two boys if an alarm had been fitted.
The court also heard her "desperate" attempts to rescue her sons were unsuccessful when she was beaten back by smoke and flames.
Bains is due to be sentenced on Wednesday.