Ripon Community Link: Disability charity investigated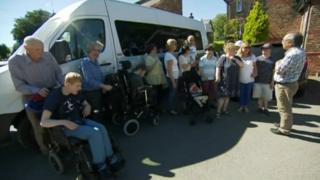 An investigation has been launched into the management of a charity that helps adults with disabilities.
The Charity Commission said it will look at the financial management of Ripon Community Link (RCL) and its handling of the recent withdrawal of services from a number of users.
Support for 12 people was stopped in June, with parents and carers saying they were given 10 days' notice.
RCL is "confident" in its actions but will seek an external review, it said.
Read more stories in North Yorkshire
The charity provides day support services for people with learning difficulties, but has had to scale back its work due to "financial challenges".
Stephen and Valerie Cocker's severely disabled son Stephen was among those to lose his place.
"If they had chosen to tell us in February, or as soon as they knew, we could have transitioned Stephen to someone else, it could and should have been seamless," Mrs Cocker said.
Mr Cocker said the community the charity created "worked beautifully" and had meant "everything" to the family.
Kathryn Harrison, the chair of trustees at RCL, said it had not taken recent decisions "lightly or without thorough consideration".
She said: "While we are confident that the recent steps taken were vital, we hear the concerns and questions being raised about how and why these decisions came about.
"We agree that it is essential that they are properly examined and outcomes fully acknowledged and properly addressed."
A spokesperson for the Charity Commission said: "We have opened a regulatory compliance case to look into the financial management of the charity and the trustees' handling of the withdrawal of services.
"The charity has reported the issues to the commission and as part of our case we will be seeking to ensure that they have been fully and frankly reported."