HMP Leeds prisoner 'killed cellmate with broken aftershave bottle'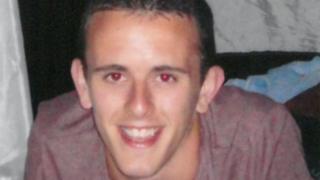 A prisoner used a broken bottle of aftershave to murder his cellmate at a prison in Leeds, a court has heard.
John Westland is accused of murdering Liam Deane, 22, from Wakefield, who was found dead in his cell in the early hours of 12 November.
After he was charged, Mr Westland told police he committed the crime as Mr Deane "was a sex offender", the jury at Leeds Crown Court heard.
Mr Westland, 29, denies murder, with the trial due to run for a week.
Read more stories in West Yorkshire
Outlining the case for the prosecution, Peter Moulson QC said Mr Deane was discovered in cell 21 on HMP Leeds' F-wing covered in blood.
He also showed signs of asphyxiation caused by pressure to his head and face, the court heard.
"Obviously, there was only one candidate," Mr Moulson said.
The court heard the prisoners were all locked in their cells for the night at 17:00 on 11 November, with Mr Westland pressing an alarm button in his cell at 05:30 the following morning.
Testimony from prison officers described a "code red" alarm, meaning a prisoner had lost blood, combined with a "code blue" warning, indicating an inmate wasn't breathing.
Shards of glass from a broken bottle of aftershave were found on a chair near the bunk bed and fingerprints matched with Mr Westland's, the court heard.
One prison officer said Mr Westland appeared "agitated" after guards entered the cell.
The jury was told he went to the toilet four times in a short space of time and attempted to wash his hands despite an officer telling him not to.
While collecting Mr Westland's clothing to place in evidence bags, a guard told him to "lose the attitude" after the prisoner complained about the new set of clothes he had been given.
According to the guard, Mr Westland responded: "You lose your attitude, you should see what happened in that cell."
The trial continues.