Emily Bronte: Violin built to celebrate 200th birthday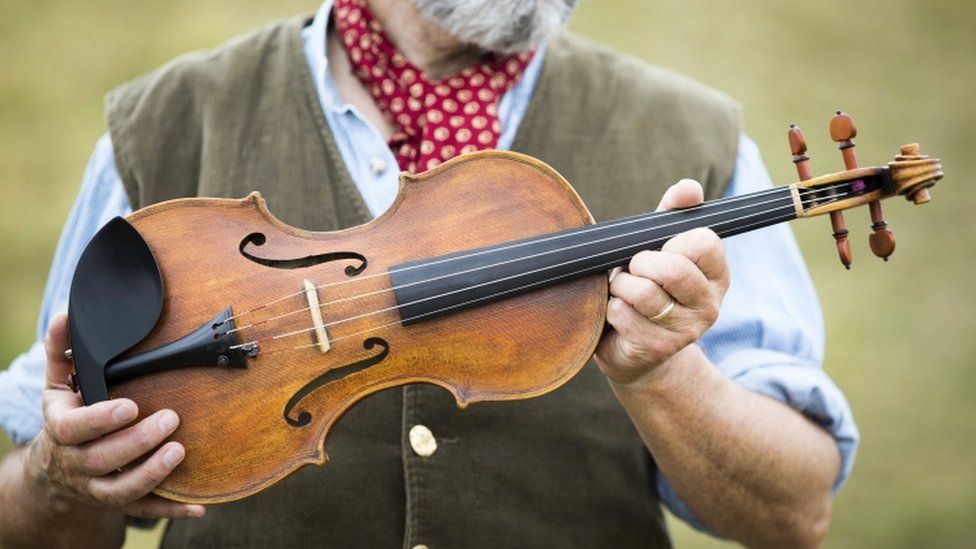 A violin has been built by a craftsman to mark Emily Bronte's 200th birthday.
Steve Burnett, an established violin maker, used wood from a tree that grew close to where she wrote at the parsonage in Haworth, West Yorkshire.
Mr Burnett, who is based in Edinburgh, said the felled sycamore tree could have been old enough to have been there during Bronte's life.
"Hopefully it will be played in the parsonage itself as time goes on," he said.
Although Bronte did not play the violin, in her novel Wuthering Heights Mr Earnshaw does bring a fiddle back over the moors but finds it in pieces after his arduous journey, Mr Burnett said.
He said the violin "in an artistic sense, has come back to the moors".
Mr Burnett hopes the violin will be used schools and it is to be played as part of Edinburgh Festival.
Charlotte, Emily and Anne Bronte were 19th Century novelists who formed one of the world's most famous literary families
Often left alone together in their isolated Haworth home, all three sisters began to write stories at an early age
Charlotte's Jane Eyre and Emily's Wuthering Heights are hailed as British classics. Anne's The Tenant of Wildfell Hall was a huge bestseller
Tragedy struck the family when Emily and Anne both died of tuberculosis, within six months of each other in 1848-49. It also killed their brother, Branwell
Charlotte continued to write and later married but she too was killed by the disease in March 1855
The Bronte Parsonage is holding a series of events to mark the bicentenary, culminating in Bronte's 200th birthday on Monday.
She was born on 30 July 1818, in Thornton, Bradford.
Mr Burnett has also made a number of instruments from trees with connections to historical figures or events.
He has also honoured World War One poets Wilfred Owen, Siegfried Sassoon and Robert Graves.
Related Internet Links
The BBC is not responsible for the content of external sites.