Yorkshire Day marked with miners 'Josh wedding'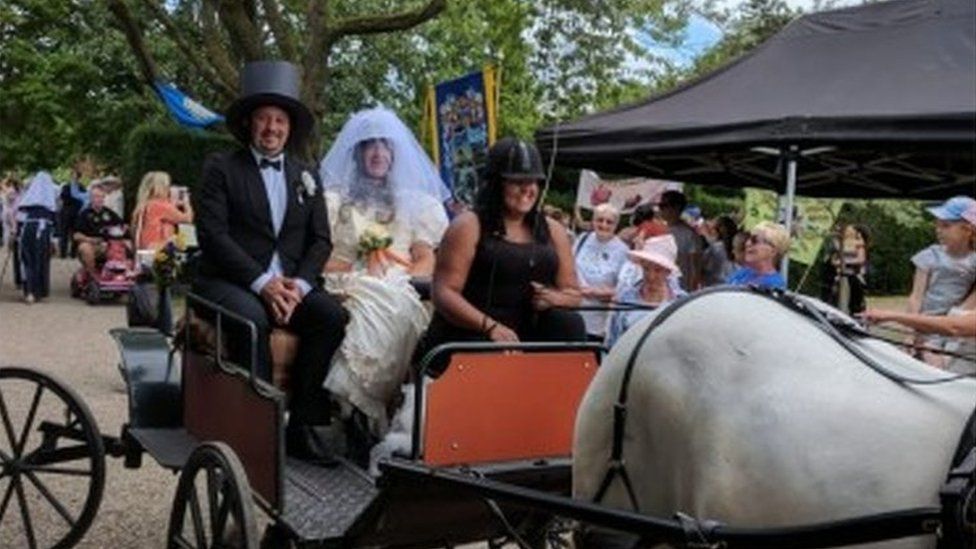 Retired miners are reviving an unusual industry tradition by dressing up as a bride and groom for a pretend wedding to mark Yorkshire Day.
Devised in 1911, a "Josh wedding" was a way of raising money to pay for a hospital bed for injured miners.
A parade at Lotherton Hall in Leeds featured the tradition.
Elsewhere, Ripon - the county's smallest city - was chosen as the official host of Yorkshire Day with 200 dignitaries marching through the town.
Yorkshire Day was first celebrated on 1 August 1975 to restore pride in the whole region.
It prompted many comments on social media, making reference to stereotypical Yorkshire traits.
Happy #Yorkshireday... celebrate by saying "how much!?!" when given the price of anything

— Rory Gordon (@AuchattieGundog) August 1, 2018
I'm going to celebrate #YorkshireDay in the traditional manner by being absolutely right about everything.

— Ian Duhig (@ianduhig) August 1, 2018
This year Sheffield will mark the occasion with a series of displays by Handsworth Traditional Sword Dancers who will be celebrating the traditional English folk dance which originated in the county.
A huge mural by Sheffield artist Jo Peel has also been painted on the back of Globe Works in Kelham Island, featuring familiar Yorkshire places.
In Leeds' Kirkgate Market, shoppers and traders tried to gain the record for having the most flat caps worn at any one time in a single venue.
Final numbers still have to be verified but the organisers are hopeful of securing the record.
First marked by the Yorkshire Ridings Society (YRS) in 1975.
YRS formed in 1974 to campaign for the traditional boundaries of Yorkshire, which had been altered.
The date was picked as it was on that day in 1759 that soldiers from Yorkshire regiments picked white roses to lie alongside fallen comrades on the battlefield of Minden in Germany.
The parade at Lotherton Hall was led by former miners and will feature the unusual spectacle of a Josh - or "joke" - wedding, which were originally held in Yorkshire villages in the 20th Century to collect food for the poor.
Before the NHS, they were a way of raising money to fund a bed at the then Leeds General, which could used by injured miners.
According to those who attended, a laundry basket was always used to collect donations and they were held every year until the NHS began in 1948 but only very intermittently afterwards.
Recalling the tradition, Bill Heszlegrave, 79, who worked at Pecklefield Pit in Micklefield, said: "They had a bride and groom and even a vicar and a horse and cart.
"In the old days people used to donate buns and food, then it was money for the bed at LGI [Leeds General].
"It's really important to us to be celebrating miners on Yorkshire Day."
Mr Heszlegrave said Britain and Yorkshire "were once built on coal mining and it's something that should never be forgotten".
Tim Staddon, an eyewitness to such a wedding, said: "Josh Weddings didn't die out completely in the 40s.
"I lived in Micklefield between 2004 and 2012, and we definitely saw at least one [and being a southerner I'd never even heard of it until we saw it]."
Related Internet Links
The BBC is not responsible for the content of external sites.