HMP Leeds: Cellmate denies murdering 'baby killer'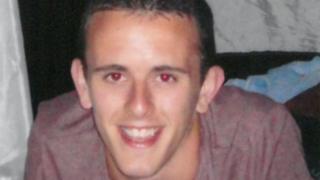 A prisoner has denied murdering his "baby killer" cellmate to gain the respect of his fellow inmates.
John Westland is accused of killing Liam Deane, 22, from Wakefield, who was found dead in his cell at HMP Leeds in the early hours of 12 November.
Leeds Crown Court heard Deane had been jailed for the murder of a young child.
Westland, 29, who was serving a sentence for rape and grievous bodily harm, told the jury he found Deane bleeding and tried to stem the blood.
Read more stories in West Yorkshire
Deane was covered in blood when he was discovered by prison guards in cell 21 on F-wing at about 05:30 GMT. They were called by Westland activating an alarm button in the shared cell.
During questioning from defence barrister Simon Kealey QC, Westland told the jury he had been smoking the drug Spice with Deane and they had watched TV together until his cellmate fell asleep at about 01:00.
Westland said Deane was in financial debt with other prisoners and faced daily threats and taunting because of the nature of his conviction.
He told the courtroom he woke up at about 05:15 to use the toilet, looked over at Deane and "thought he saw blood".
"I took his tracksuit bottoms and put them on his neck to stem the blood," he said.
Westland told the jury he spotted shards of glass on the top bunk, where Deane slept, moved the shards to a chair and washed his hands after cutting himself on some of it.
He told the court he hit a buzzer to alert guards and told them: "I think my cellmate has self-harmed or injured himself."
During cross-examination from Peter Moulson QC, Westland said Deane was bullied by other inmates, was scared for his life and was regularly called a "baby killer" around the prison.
Mr Moulson asked: "Did you kill him because others wanted him dead?"
"No," Westland replied.
The court previously heard the shards of glass, from a broken bottle of aftershave, had fingerprints on them matching Westland's.
Prosecutors claim the glass was used to murder Deane, with his body also showing signs of asphyxiation caused by pressure to his head and face.
At a previous hearing, the court heard Westland told police he committed the crime as Deane "was a sex offender".
During Monday's proceedings, he claimed he had been misquoted and said that would have been his reasoning though, had he actually carried out the act, which he has denied doing.
The trial continues.