Man hurt in Alphabet Zoo play centre balcony jump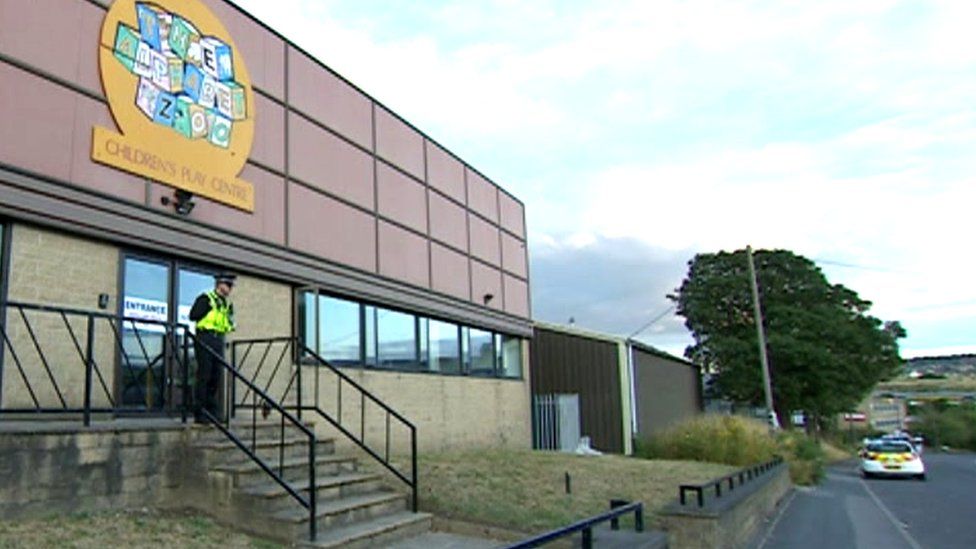 A man who stormed into a children's play centre has been left in a serious condition after falling from a balcony as police tried to detain him.
Several people, including children, were caught up in the "scary" incident at The Alphabet Zoo in Bradford on Tuesday afternoon.
Owner Ashiq Hussain said the man came "tearing through" the play centre, with officers in pursuit, before he jumped from a mezzanine level.
The police watchdog has been informed.
The play centre, on Cemetery Road, initially described it as a "major incident", but West Yorkshire Police has since said the man was the only person hurt.
The venue provides play areas for babies, toddlers and under-12s, including a ball pool, go-karts and a football hall.
A force spokesperson said: "Officers attended and made continued efforts to detain the male but he then fell from a balcony.
"He was taken to hospital where his condition is described as serious but is not believed to be life-threatening.
"No-one else was injured during the incident."
It has been referred to the Independent Office for Police Conduct and no-one has been arrested, police added.
Mr Hussain said: "He's climbed over the secure door area, we don't let people through there without being allowed by staff."
He said police followed the man into the play centre and tried to apprehend him, but he broke free and jumped over the balcony, crashing onto a fence which landed on customers with children below.
Mr Hussain said: "It was scary. It's a safe place and people were enjoying themselves when this man comes tearing through with the police right behind him."
Related Internet Links
The BBC is not responsible for the content of external sites.