Bradford police chase crash: Funerals held for four men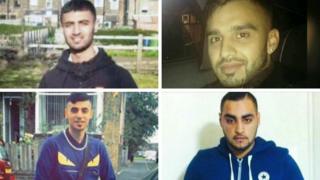 Thousands of people have attended the funerals of four men who died in a car crash during a police pursuit.
Murtza Chaudhry, 21, Arbaaz Hussain, 21, Zeeshan Khalid, 20, and Tayyab Siddique, 22, were killed in the crash.
The BMW they were in was being followed by officers on Bingley Road, Bradford before it hit a tree at the junction with Toller Lane on Thursday.
A funeral ceremony for the men took place at 16:00 BST at The Field on Scotchman Road in the town.
Four hearses were driven into the packed field where traditional prayers were said.
Speaking to the crowd, Imam Mohammed Asim said: "The whole of Bradford has been rocked.
"We cannot let this happen again. Their whole lives were ahead of them. But you see what one moment of madness can do?"
Before the ceremony, MP for Bradford East Imran Hussain said he was born and brought up in the area.
"I knew the young men and I know their families. This is an extremely tragic loss of four very liked young men and the whole community is in mourning," he said.
"People have turned up in their thousands to stand with the families."
Mr Hussain said all the men had "promising futures".
He added there were questions that needed answering, but "that's not for today".
A spokesman for the Janaza Announcements Facebook page earlier said he expected a large number of people would attend the service.
The crash has been referred to the Independent Office for Police Conduct (IOPC).
Mark Burns-Williamson, the Police and Crime Commissioner for West Yorkshire, said he was liaising with West Yorkshire Police and the IOPC to "ensure the investigation into the incident is completed as appropriately and sympathetically as possible".