Thousands turn out for Leeds Pride parade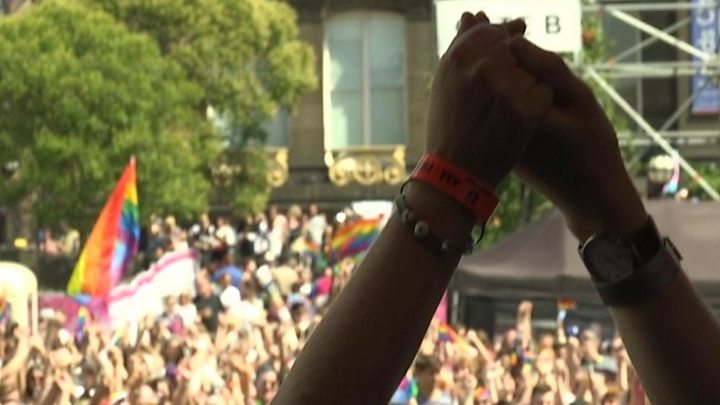 Thousands of people have turned out for the annual Pride parade and celebrations in Leeds.
Up to 120 floats took part in the procession through the city centre, organisers said.
The event started at Millennium Square before winding its way through the city centre to Lower Briggate.
Paul Mattison, of Leeds Pride, estimated that 50,000 people were on the streets for the event and said the support was "overwhelming".
Organisers describe the parade, which has been running since 2006, as "Yorkshire's biggest celebration of Lesbian, Gay, Bisexual and Trans life".
West Yorkshire Police estimated that at least 40,000 took to the streets for the parade.
Director of Leeds Pride Liaqat Ali, said: "It's massively important that Pride events still happen.
"It's not the protest that it was, but it's still so relevant now, there's about 70 countries where it's still illegal to be gay.
"Leeds is actually leading the way, we're one of the few Prides that is still free and open to everyone regardless of age, gender, sexuality -anything like that - it's open to everyone."