David Ellam: IOPC finds no wrongdoing in dog death case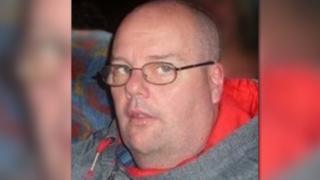 The police handling of a dog which killed a man a week after it had been returned to its owner was in line with official procedures, an investigation has found.
David Ellam, 52, was mauled by Aaron Joseph's dog after it escaped from its pen in Huddersfield in 2016.
It had been seized earlier but was returned because it was not classed as a dangerous breed.
An Independent Office for Police Conduct inquiry found no wrongdoing.
Read more stories in West Yorkshire
Joseph's dog, named Alex, escaped from its outdoor pen in a shared garden area on 15 August and mauled Mr Ellam on Riddings Road.
The police watchdog's report said Mr Ellam was knocked to the ground and suffered a "vicious and sustained" attack, with a 999 caller reporting it lasting five minutes.
He was found by police face down in a "pool of blood" with the dog continuing to attack him, so an officer took out a fire extinguisher from a patrol car and sprayed the dog in the face.
Mr Ellam suffered a cardiac arrest in the ambulance and later died in hospital.
The Independent Office for Police Conduct (IOPC) praised the bravery of the first officers at the scene for getting the dog away from Mr Ellam and preventing it from attacking others.
Joseph, who lived in a flat above Mr Ellam, was jailed for 10 years in February after he was convicted of owning a dog dangerously out of control causing injury resulting in death.
The IOPC said Mr Ellam had complained to the council about the manner Alex was being kept, fearing it would attack his dog or local children.
It was later seized and assessed by West Yorkshire Police, but it was found the dog "did not have sufficient characteristics to determine it as a banned pit bull breed".
The IOPC recommended the force to bring in additional training in how to handle dogs attacking members of the public.
In his conclusions, lead investigator Paul Whitaker said: "I feel that West Yorkshire Police did everything asked of them by Kirklees Council lawfully and correctly and in line with published policies and procedures."
He found no evidence police caused or contributed to Mr Ellam's death and felt officers' actions did not amount to any breach of professional conduct.