Leeds Festival mementoes gathered in museum archive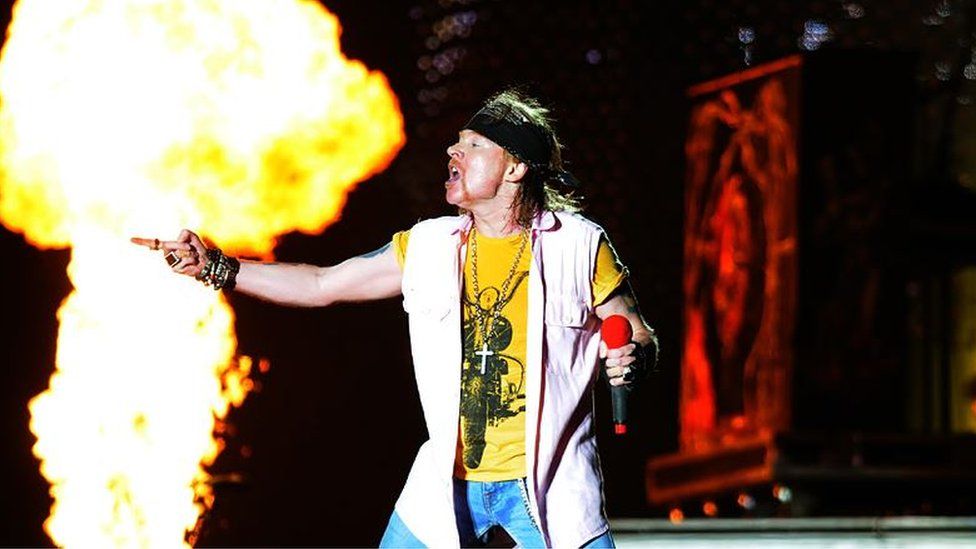 A tequila bottle belonging to Guns N' Roses and a set-list from the Pigeon Detectives are just some of the mementos in a new archive celebrating Leeds Festival.
Band paraphernalia such as guitar strings and drumsticks join the more bizarre donations of dentures and a bear-shaped hat.
Acts and revellers have passed on the objects to Leeds City Museum.
The archive hopes to document the event for future generations.
Community curator Marek Romaniszyn said: "I wasn't expecting to get a bong mask but it certainly tells a story."
First staged in 1999, Leeds is the sister festival to Reading, the world's oldest popular music festival, and the museum wanted to reflect the event's place in popular culture.
Collectors got in touch with artists who have played at Bramham Park and festival-goers to pick something meaningful to them.
Mr Romaniszyn explained: "I asked the artists to send me something used, something which reflected their time there.
"Heart-ships sent me a few items, one of which was a moulded set of dentures - the story being this was an impression of the singer's teeth which they had on stage when they played at Leeds."
The clear-up operation afterwards provided some interesting finds.
"There was an empty bottle of tequila, a guitar string and a guest pass tick list," said Mr Romaniszyn.
"A bottle on its own doesn't mean much but attached to a huge band, it means so much more."
Mr Romaniszyn said: "Surprise Fire sent us their drink of choice - a can of Relentless and a can of Fosters which they mixed together.
"This kind of detail is great for our archives because it signifies what it means to be young - for those trying to make it in the industry and how important a gig like this is."
The collection also features pictures of revellers, posters and broken piano keys.
Mr Romaniszyn has urged anyone going to this year's Leeds Festival, which starts on 24 August, to send in a memento.
"It could be something as mundane as a plastic cup, or the T-shirt you wore."
Related Internet Links
The BBC is not responsible for the content of external sites.