Plaque to honour Leeds WWII firefighter Solomon Belinsky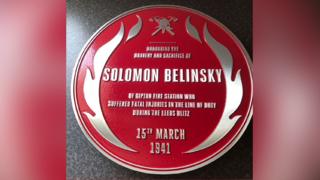 A plaque has been unveiled marking the death of a Leeds firefighter who tried to save a city museum from a German air-raid during World War II.
Solomon Belinsky was an upholsterer who volunteered for the city's Auxiliary Fire Service during the war, serving at the fire station in Gipton.
He was injured by a falling bomb on 15 March 1941 and died 17 days later.
A red plaque was erected at the fire station to honour his "courage and service", the Fire Brigades Union said.
Neil Carbutt, secretary of the union, said: "Solomon Belinsky gave his life serving his community, as so many firefighters have done, and this red plaque will help to ensure that his courage and service is recognised and never forgotten."
The city centre suffered nine air-raids over the duration of the war.
Leeds Beckett University historian Shane Ewen said: "Men and women like Solomon Belinsky risked their lives to help make the fire service an indispensable arm in the country's civil defence, they heroically fought fires while bombs rained down upon them.
"Many who survived suffered burns and broken bones as well as post-traumatic stress disorder having witnessed multiple fatalities."
The unveiling of the plaque is part of a series of activities to mark the Heritage Open Day at the Gipton fire station, which is now a community centre.
The fire station shut in 2015, 80 years after it opened. The building was later renovated and reopened in August 2017 for the public.