Joe Robinson: Ex-soldier on bail in Turkey 'begging' for help from UK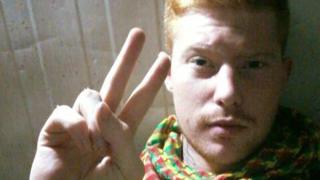 An ex-soldier sentenced in Turkey after joining a Kurdish armed group has said he is "begging" for the UK government to help him.
Joe Robinson was given a seven-and-a-half year jail term after volunteering with the YPG, which was fighting so-called Islamic State in Syria. Turkey regards the YPG as a terrorist group.
The 25-year-old from Leeds told ITV News he was "emotionally drained".
The Foreign Office said it had raised the case with Turkish authorities.
Robinson, who remains on bail pending an appeal against his sentence, told ITV News: "This has been going on for 14 months now. For the first four months I was locked in a high-security prison in solitary confinement for 23 hours a day.
"I didn't see sunlight for three months and I wasn't allowed to see or speak to my fiancée for four months."
He added: "I'm at the point where I am literally begging the British government to do something."
His fiancée Mira Rojkan, 23, was arrested alongside Robinson while they were on holiday last year.
The Bulgarian national, who was given a suspended sentence for "terrorism propaganda", has called on Foreign Secretary Jeremy Hunt to intervene in the case.
"The UK should stop saying they can't do it, we know they can," she said. "We're talking about a veteran.
"He [Mr Hunt] needs to get in touch with the Turkish authorities on a diplomatic level."
She said the family had written to former foreign secretary Boris Johnson and Foreign Office minister Alan Duncan over the case, but hoped Mr Hunt would now intervene.
Robinson, who is originally from Accrington, Lancashire, said he only spent a month with the YPG while providing medical support to civilians in July 2015.
Miss Rojkan said Robinson was unaware of the organisation's ideology and did not see conflict.
Three months later, however, he did fight Islamic State alongside Kurdish Peshmerga forces in Iraq, she said.
A Foreign Office spokeswoman said officials were ready to provide Robinson with further assistance.
"We have been following this case very closely and have raised it with the Turkish authorities," she said.