Cottingley Fairies photographs make £20,000 at auction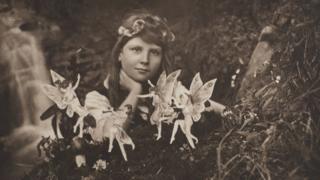 Two of the famous faked Cottingley Fairies photographs have sold for more than £20,000 at auction.
The pictures were taken in 1917 by 16-year-old Elsie Wright and her nine-year-old cousin Frances Griffiths in the village of Cottingley, near Bingley in Yorkshire.
The hoax fooled many people including Sherlock Holmes author Sir Arthur Conan Doyle.
The fairy picture sold for £15,000 while the gnome image fetched £5,400.
Both pictures were bought online after attracting international interest.
Dominic Winter Auctioneers in Cirencester said the images were originally expected to fetch about £2,000.
The images, which were taken on a camera Elsie borrowed from her father, used coloured paper cut-outs and hat pins to stage their scenes near the stream at the end of Elsie's garden.
The first showed Frances with four dancing fairies, while the second, taken two months later, showed Elsie with a one-foot tall dancing gnome.
According to the auctioneers, the image of Elsie sparked a huge debate over a visible mark made by a hat pin in the gnome's stomach.
More news and stories from across Yorkshire
After examining the print, Sir Arthur Conan Doyle, concluded that this pin point was a navel - sparking a discussion on methods of birth in the fairy kingdom.