Sir Titus Salt: Victorian philanthropist honoured with blue plaque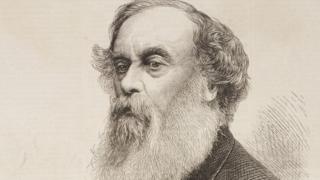 A blue plaque has been unveiled at the Yorkshire birthplace of a Victorian mill owner and philanthropist.
Sir Titus Salt, who made his fortune in the textile industry, built Saltaire mill near Bradford and an adjoining village for his workers.
The village has been designated a Unesco World Heritage Site.
The plaque was unveiled at a house in Morley where Sir Titus was born in 1803. The ceremony on Friday was organised by Leeds Civic Trust.
Its director Martin Hamilton said: "Although Bradford quite rightly claims Salt as one of their own, Morley first nurtured his entrepreneurial spirit and social outlook as a boy.
"For that reason alone he should be remembered."
Sir Titus started working in the textile industry as a boy. He made his fortune after he developed a technique for turning alpaca wool into cloth for dress fabrics.
Work on Saltaire started in the 1850s and by 1871 there were more than 4,000 inhabitants.
As well as the mill and the workers' houses, the village had a church, a school, a mechanics institute, a community centre, almshouses, a park, and its own reservoir.
It was recognised as a Unesco World Heritage Site in 2001 for its international influence on town planning.