Huddersfield grooming: Mum recalls daughter's sex abuse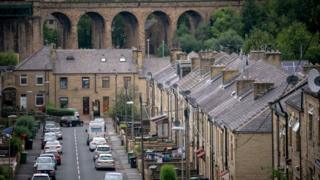 A grooming gang in Huddersfield targeted dozens of underage girls and raped, abused, and passed them around for years. One mum recounts the harrowing abuse suffered by her daughter.
"One time she came home and her neck was completely black with bites.
"I had an idea what was going on because I would see her underwear... but these men have a hold over your child and there's nothing you can do apart from be there."
This was the reality of daily life for one family who fought for years to free their daughter from the abusers' grip.
At 13, she was not particularly streetwise. Her mother remembers a "very quiet", boy band-obsessed "girly-girl who loved wearing pink hair clips".
But, as she was drawn into a seedy world, she changed.
Twenty guilty of campaign of rape and abuse
Grooming victims 'delivered to hell'
"Her hair tied so tight on top of her head, her clothes changed, her underwear changed," her mother said.
"There were big hooped earrings and she started wearing make-up and listening to this music I didn't recognise.
"All the time she was home her phone was constantly in her hand."
A pattern of behaviour began to stick.
She regularly missed school, disappeared every weekend and left her parents frantic until they got a hysterical call in the early hours.
Each time, their daughter had been dumped and left to find her own way back to her family.
At home, the youngster was bombarded with dozens of phone calls and text messages.
Her parents locked windows and doors to try and protect her but she would threaten to hurt herself with a knife.
"There was one time we were trying to talk sense into her and drag her back into the house," her mum said.
"She was saying 'I have to go, you don't understand'.
"I was saying 'please make us understand' and she said 'they've said if I don't do what they say then they're going to gang rape you in front of dad'.
"I was gobsmacked. I thought if this is the kind of hold these perpetrators have over your child then you've got absolutely no chance."
Reality Check: The scale of online child sex abuse
'Nobody asked me any questions'
Desperate to "get her off the radar", her father took her out of the country for several weeks.
But when she returned, so did the men and their demands.
"She'd come home totally disorientated. We used to take it in turns and sit up all night with her, making sure she was lying on her side. We didn't know what she'd had.
"She was giddy, silly. I used to always say what's your name, what's your date of birth, do you know what day it is?
"Then she'd sleep right through until dinner time the day after, get up, shower and go out again."
Her parents would constantly ring the police and approached their MP.
With support from charity Parents Against Child Sexual Exploitation, they kept a daily log but were told by officers that without any "hardcore evidence" or the girls speaking out, nothing could be done.
"Some police officers were nice but the odd one or two did victim-blame or blame us as a family."
At home the impact was far-reaching. The girl's sibling would struggle to sleep and spend nights watching out of the bedroom window for her to come home, the next day falling asleep in class.
The spectre of the men's influence threatened to cause divisions at home but the family did not bend.
"It made us stronger. It was either that of just give in. We used to say we're not letting her go. We can't give up."
Their daughter's escape came when she eventually fell pregnant by one of the abusers.
With her parents' support, she kept the baby. Her mother describes how her daughter looked at the child and said it saved her life.
In the aftermath, the men faded away, but the trauma they caused has remained. Now a young woman, she sleeps with a light on and takes medication.
But thanks to her courage, the abusers are behind bars.
A senior police officer contacted the family after hearing the girl's mum interviewed on the radio.
It led to her daughter giving evidence and for other girls to be interviewed.
"I'm so pleased we've been taken seriously, not been judged anymore, not been abandoned this time round," said her mother.
"I'm so proud of all those girls that have come forward and for being so brave.
"Hopefully they can now move on."