Five accused of National Action membership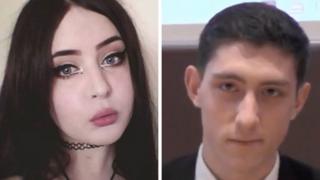 Four people accused of belonging to the banned neo-Nazi group National Action have appeared in court.
Garry Jack, 22, Daniel Ward, 28, and Alice Cutter, 22, appeared at the Old Bailey by video-link, while a 17-year-old boy was present in court.
A technical problem meant Ms Cutter's fiance Mark Jones, 24, did not appear.
Mr Jones and Ms Cutter from Halifax, Mr Jack and Mr Ward from Birmingham and the 17-year-old from Nottingham have not yet entered pleas.
The judge Mr Justice Sweeney set a trial date at Birmingham Crown Court of 18 March.
The five are jointly charged with membership of the far-right organisation National Action between 17 December 2016 and 5 September 2017, after it was outlawed by then-Home Secretary Amber Rudd.
The alleged offence falls under Section 11 of the Terrorism Act 2000.
Mr Jones, of Wharf Street in Halifax, West Yorkshire, Mr Jack, of Heathland Avenue, Birmingham, and Mr Ward, of Highmore Drive, Birmingham, were remanded in custody.
Ms Cutter, also of Wharf Street in Halifax, and the 17-year-old boy, a college student from Nottingham who cannot be named, were granted bail.
All five will next appear in court to enter pleas on January 28.