Channel 4: Broadcaster's move 'a game changer' for Leeds
By Tom Airey
BBC News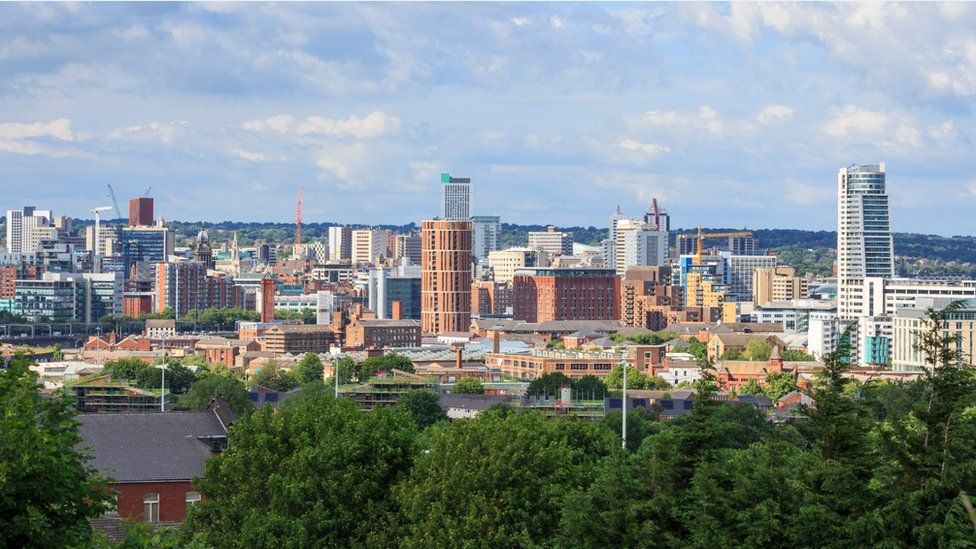 When Channel 4 launched in 1982, the first face beamed into living rooms around the country was that of Yorkshireman Richard Whiteley.
Countdown's debut show was filmed in Leeds and the broadcaster has now come full circle and selecting the city as its home for what it calls its national HQ.
After solving its own conundrum between the finalist cities of Manchester, Leeds and Birmingham, the company can now focus on finding land for its new centre in West Yorkshire.
About 25% of its 800 staff will be based in the city; actors, students, production companies and businesspeople have praised Channel 4 for finally making a move north.
Actress and Fat Friends screenwriter Kay Mellor, who has a production company based in the city, was beaming with pride as the announcement was made.
"It's absolutely the right decision, every indie [independent production company] got behind the campaign and we've got the right result," she said.
"Leeds is the perfect fit in terms of location and talent and we'll all be there with open arms to welcome them to our wonderful city. It's a game changer, putting us firmly on the media map."
Channel 4's Chief Executive, Alex Mahon and the Channel 4 Board have today confirmed that Leeds will be the location of its new National HQ and Bristol and Glasgow will be the locations of its two new Creative Hubs. #4AlltheUK pic.twitter.com/Sb937NwBNh

— Channel 4 Press (@C4Press) October 31, 2018
Delight Channel's 4's new HQ to locate in Leeds...having grown up a few miles further North I know the potential our moving there can unleash! Great to have new hubs too in Bristol and Glasgow!±

— Jon Snow (@jonsnowC4) October 31, 2018
According to film and digital investment body Screen Yorkshire, TV and film industries in Yorkshire & the Humber generated an annual turnover of £424m across 590 creative businesses between 2009-2015.
During this period, the growth of the sector in the region outstripped that of every other part of the UK, including the South East, according to figures from the Office for National Statistics.
Sally Joynson, Screen Yorkshire's chief executive, said: "We have worked tirelessly with the Leeds City Region team throughout the bid process and believe passionately that it will enable Channel 4 to engage with and better reflect audiences outside of London.
"Today's decision will be transformational to the screen industries in the Leeds City Region - and indeed across the North of England."
Analysis - James Vincent, BBC Look North political editor
Channel 4 was set up to be different to the mainstream and by having their headquarters outside of London it's a claim they can now back up.
Yorkshire won't just get jobs, it gets a huge boost to an already growing media and digital sector.
Channel 4 gets access to one of the youngest and most diverse areas of the country.
It might not be a move that Channel 4 initially wanted to make - the government told them they had to leave London - but it's a move that could transform an industry facing pressure to better reflect its audience.
Channel 4's new Leeds home has been described as "a broad-based centre" which will include commissioning, production and digital content, with staff moving to the site in 2019.
Paul Swinney, from Centre for Cities, said only time will tell what the real positives will be for the area.
"The brand element [of having Channel 4] is really great, but we shouldn't get carried away with the economic impact because those two things aren't necessarily the same," he said.
"From a jobs point of view you are only likely to see modest increase from the move."
The decision, which will also see Bristol and Glasgow gaining new creative hubs, is part of the biggest change to the structure of the channel in its 35-year history.
James Mellor, creative director at Ripponden-based production company Rainbow Trout Films, said: "I'm hopeful that they don't just do what they initially did with MediaCityUK in Salford, where they literally move a bunch of people from an office in London to an office in the north.
"That won't have the benefit - I would like to see cohesion with the local industry and resources."
Susan Hinchliffe, leader of Bradford Council, said the move means a great deal not only for Leeds but for all its surrounding cities.
"Yorkshire is a massive place, it's got diversity, it's got youth and actually for Channel 4 it will be really rich content for them to pull on for all their programming," she said.
Henri Murison, from the Northern Powerhouse Partnership, said the student-heavy city of Leeds offered a "young, dynamic vision" for the company.
"It isn't an established broadcasting centre, that was what the other side of the Pennines was pitching for, so Leeds offers something a bit different," he said.
FYI Channel 4 staff: A London to Leeds season ticket is 14 grand.

— Jim Waterson (@jimwaterson) October 31, 2018
Channel 4 announced its intention to move staff out of London after the government said the broadcaster would remain publicly owned, but faced being relocated.
There was considerable opposition inside the company and it warned that forcing it to move outside London in its entirety "would be highly damaging".
The compromise has been a move of some jobs but Channel 4 it will retain the lion's share of its staff in the capital.
Declan Keevle, 20, who is studying film and television production at the University of Bradford, hopes the move can help him realise his ambition of becoming a director without moving south.
He said: "It's massively beneficial, most opportunities in the film and creative industries tend to be very London-centric, so to bring it up north is fantastic.
"There's a lot of universities up here with students doing creative degrees, it's a big talent pool to pick from."
Related Internet Links
The BBC is not responsible for the content of external sites.