Leeds gang ringleader jailed over gun attack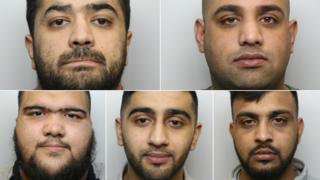 A criminal gang ringleader who styled himself as the "boss of Leeds 11" has been jailed for 21 years.
Wakkas Butt fired a sawn-off shotgun at a man in a car and owned a vehicle with the registration plate LS11 BOS referring to the Beeston postcode.
His gang was involved in a feud which saw 94 offences committed in a square mile over two years, police said.
Butt was convicted of arson connected to an attack in Sheffield, along with three other men.
He was also found guilty of a firearms offence related to the October 2017 shotgun attack, along with a second man.
The ringleader and his accomplices had been made the subject of the city's first "gangbo" injunction restricting addresses they visited, cars they used and mobile phones they could own.
In June, Butt was convicted of possessing a gun with intent to endanger life after a shooting in Maud Place in the Beeston area of Leeds.
A man sitting in a BMW car had been targeted with a sawn-off shotgun but the blast damaged the bonnet and windscreen.
Det Ch Insp Jaz Khan, from West Yorkshire Police, said: "Wakkas Butt is someone who has been repeatedly linked to criminal activity that has created a climate of fear for ordinary law-abiding members of the public in the Beeston area and further afield.
"He styled himself as a gangster and drove around in a high-performance car bearing a registration that suggests he thought he was the boss of the LS11 area."
The gang's sentences:
Wakkas Butt, 26, of Cross Flatts Road, Beeston, and Shezan Shabir, 26, of Old Mill View, Dewsbury, were both jailed for 21 years for a firearms offence and arson. Both were also given an extended licence period of five years
Irshad Badar, 24, of Rowliff Road, High Wycombe, was also convicted of the firearms offence and jailed for eight years
Adil Qayyum, 25, of Pickles Street, Batley, was convicted of arson being reckless as to whether life was endangered and jailed for six years
Adeel Malik, 22, of Lynndale Avenue, Huddersfield convicted of arson being reckless as to whether life was endangered and jailed for eight years