Two people hit by unmarked armed police car in Leeds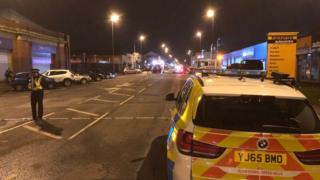 Two people have been hit by an unmarked armed response police car that crashed with other vehicles during a call-out.
A 71-year-old woman and a man were struck by the police car as it hit parked and moving vehicles in Roseville Road, Leeds, on Wednesday.
She suffered serious injuries, which are not believed to be life-threatening. The man left the scene and is being sought by police.
The case has been referred to the Independent Office for Police Conduct.
West Yorkshire Police want to find the man who was hit by the vehicle. It is unclear whether he was injured.
He is described as white, aged in his 40s or 50s wearing a brown fur deerstalker hat, a black jacket with grey piping on the sleeves, jeans and beige shoes.
The Independent Office for Police Conduct said: "The police car hit a 71-year-old woman, a pedestrian... she is currently being treated in hospital, where her condition is described as serious.
"A second pedestrian is also thought to have been hit by the police car but left the scene shortly after.
"The force is seeking to trace that person to check his welfare."