Thousands in Leeds back Kurdish teenager's asylum bid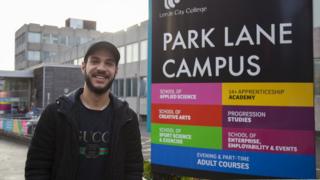 Thousands of people have signed a petition urging the Home Office to grant asylum to a Kurdish teenager.
Hossein Ahmadi says because of his family's political beliefs he fears he will be "executed or imprisoned" if he is forced to return to Iran.
However, he said the Home Office had rejected his application for asylum and told him it was safe for him to return.
The Home Office said: "Individuals with ongoing asylum claims are not subject to removal action."
Mr Ahmadi has appealed the decision and is due to attend a hearing on 4 December.
'I'm scared'
He said he feared for his safety following the death of his father, who was also called Hossein and who was killed, when the teenager was a baby, for his links to the Kurdish Democratic Party of Iran.
Mr Ahmadi said his older brother Mohsen was arrested in 2015, prompting the teenager to leave Iran, whereupon he fell in with people smugglers and spent several months in a refugee camp in Dunkirk before he arrived in the UK in August 2016 aged 15.
He said there was some initial "confusion" among British officials about his date of birth, which meant that it was inaccurately recorded as 17.
Mr Ahmadi, who is studying performing arts at Leeds City College said: "I'm scared that I will be executed or put in prison if I am sent back.
"Everybody wants to be with their family and if I could go back I would, but there is danger, there is risk.
"Here I have a new life, I've made friends and I'm going to college."
The petition in support of Mr Ahmadi's appeal was set up by Leeds City College singing teacher Laura Kayes and has been signed by more than 7,500 people.
She said she was "delighted" by the support and hoped it would increase his chances of remaining in the UK.
"It is imperative that he is allowed to stay where he is valued, and most importantly, safe," she said.