Yasser Yaqub shooting: Firearms officer feared 'imminent danger'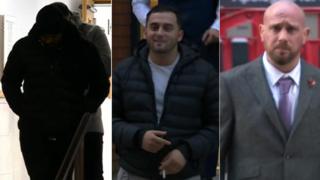 A police officer who shot dead a man feared his life was in "imminent danger" when he opened fire, a court heard.
Yassar Yaqub was killed by armed officers after his car was stopped on the M62 motorway near Huddersfield.
Three of Mr Yaqub's associates are on trial at Leeds Crown Court accused of possessing a firearm and ammunition with intent to endanger life.
Mohsin Amin, Rexhino Arapaj and David Butlin deny all the charges.
Prosecutor Richard Moulson QC, read a statement from the West Yorkshire Police firearms officer identified only as "Victor 39".
The officer said he lowered the window of his car and pointed his firearm at the car containing Mr Yaqub and shouted at the men to raise their hands.
He said the driver obeyed but Mr Yaqub "crouched down in the footwell".
"I was suddenly aware the male was bringing his hands up. His torso was still crouched down. I then saw the top of a handgun," the officer said.
"I was under no doubt he was holding a handgun. At this point the male quickly looked up at me then down at the handgun. He started to lift his hands.
"It is my honestly held belief that my life and that of my colleagues was in imminent danger. I fired my weapon."
The officer said he fired three shots.
"I fired a third shot as I continued to challenge him. He snapped his head up towards me, his eyes rolled into his head. I felt the immediate threat had gone."
The trial continues.