Yassar Yaqub shooting: Car driver 'knew nothing of gun'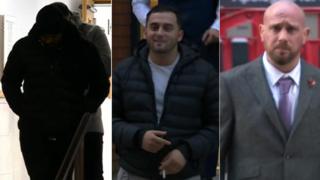 The driver of a car involved in a fatal police shooting said he did not know his front seat passenger had a gun.
Mohsin Amin, 32, was driving an Audi A4 when armed police shot dead Yassar Yaqub near the M62 in January 2017.
Leeds Crown Court previously heard Mr Yaqub was shot by a West Yorkshire Firearms officer as the officer believed he had a hand gun.
Mr Amin is accused of possession of a firearm and ammunition with intent to endanger life. He denies the charge.
Rexhino Arapaj, 28, of Huddersfield and David Butlin, 39, of Holmfirth, face the same charge and also deny it.
Jurors heard Mr Amin and Mr Yaqub had been driving from Bradford to Huddersfield when his car was stopped by armed police as he left the motorway at junction 24 for Ainley Top.
A firearms officer previously told the court the driver, Moshin Amin, obeyed instructions but passenger Mr Yaqub had crouched down and as he brought his hands back up the officer was "under no doubt he was holding a handgun".
Mr Amin, of Dewsbury, later told police he had no recollection of the officer shouting that he was armed and did not recall Mr Yaqub holding a gun.
However he said he had been "in shock" at the time.
Asked by his barrister Abbas Lakha QC if he knew Mr Yaqub had a weapon with him he said "no".
Mr Amin said he had been travelling with Mr Yaqub in the Audi while Mr Arapaj and Mr Butlin had been in a VW Scirocco behind them.
The men had attended a meeting between Mr Yaqub and another man over some stolen drugs.
Mr Butlin, who was alleged to have a "push dagger", also denies having an offensive weapon.
The trial continues.