Temple Newsam 'solidarity' event for attacked runners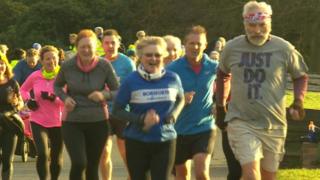 More than 300 people have taken part in a "solidarity run" in support of a group of runners who were attacked while out training.
Several members of St Theresa's Athletics Club, including a 71-year-old man, were assaulted in Temple Newsam, in Leeds, last month.
Hundreds gathered at the Temple Newsam Parkrun and West Yorkshire Police gave out safety leaflets to participants.
Club secretary Karren Sherras said the response from runners was "fantastic".
She said the attack had happened near to the end of a training run on on 8 November.
"There was a group of young men and they just started forming a line and they blocked the route, she said.
"The let one of our runners - Chris - through and then blocked the others coming through.
"When Chris turned around to say 'Let them through' one of the boys started hitting him and knocked him to the ground; a few of the other boys started hitting some of the ladies as well.
"It has made us more cautious and as a club we have changed the way we do some things.
"But we can't let them beat us, we have to continue as a community."
The solidarity run was organised by club member, Tillie Clark, the training partner of the man attacked.
She said: "As runners we get verbally abused all the time, but to be physically attacked is not good."