Bradford grooming: Nine jailed for abusing girls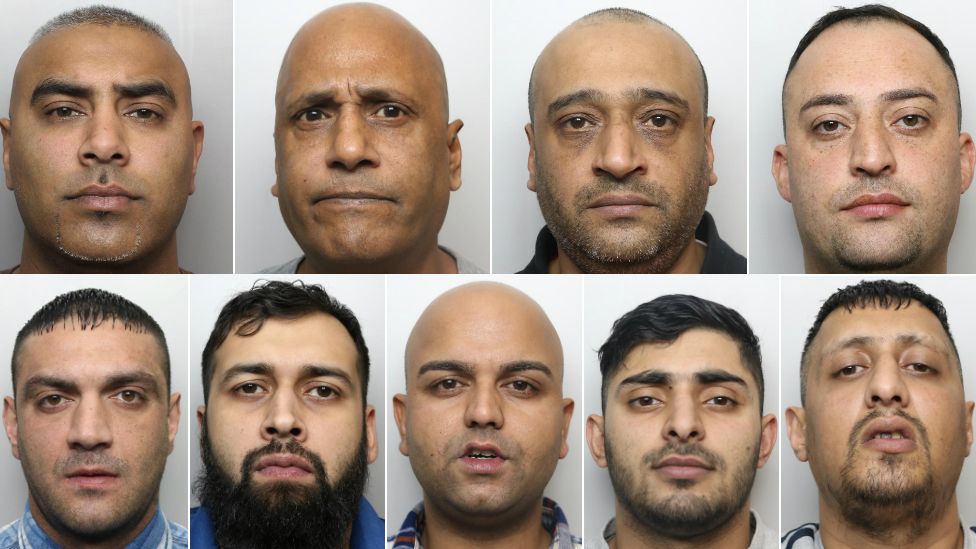 Nine men who raped and abused two teenage girls who were living in a children's home have been jailed.
The girls were aged 14 when the men first began to use drink, drugs and violence to groom and sexually exploit them.
Bradford Crown Court heard the abuse started after the girls moved into the home in 2008.
The nine were convicted of 22 offences including rape and inciting child prostitution.
A tenth defendant was cleared of rape.
One of the women, Fiona Goddard, decided to waive her legal right to life-long anonymity to show other victims of abuse "there is nothing to be ashamed of".
Sentencing the men to jail terms ranging from 20 years to 18 months, Judge Jonathan Durham Hall QC said: "You appear not to have shown any respect for the minimum standards of decent behaviour."
During the trial, which lasted more than six weeks, prosecutor Karma Melly QC said the gang had taken advantage of the girls' age and situation.
She said: "Some of the defendants were actually forceful, threatening and violent, others used alcohol and drugs, others created a manipulated relationship in order to facilitate their sexual exploitation."
Reading from an impact statement, Ms Goddard, 25, told the court: "I can't change what's happened, but I can rebuild my life."
The jury heard it was Basharat Khaliq who first met the girls in 2008, when he was 27 and they were both 14, before taking them to a petrol station and buying them a bottle of vodka.
Over the following years he groomed and repeatedly raped one of the girls and on one occasion abused Ms Goddard.
At about the same time the girls also separately met brothers Saeed and Naveed Akthar, with much of the abuse taking place at Saeed's former address on Saffron Drive.
Ms Melly said: "Fiona was used for sex by the men that came to the property.
"She was used by Saeed to get drugs and bring them back, she was told to go and meet dealers and to ensure she came back with drugs though she was given no money for them.
"She was in effect used as a prostitute on his instruction."
The allegations came to light in 2014 when Ms Goddard saw a report on the grooming and sexual abuse of hundreds of young girls in Rotherham on BBC Look North.
She asked her then partner to contact the BBC to say that similar abuse was happening elsewhere and the BBC "quite properly" notified police.
Statement from Fiona Goddard
I would like to take this opportunity to explain why I decided to waive my anonymity.
It's because I wanted to show anyone who has gone through, or is going through, anything similar that there is nothing to be ashamed of.
Crimes like these haven't always been dealt with appropriately in the past, but I am proud to say that the police and other services are working really hard to change this and the stigma surrounding it.
I would like to assure people that if they did come forward, they would be believed and supported.
Speaking outside court, Fiona Goddard told the BBC: "These men have influenced every aspect of my life, for as long as I can remember.
"Today, I got to stand in front of them and take that control back and know that they are never going to impact my life again."
Judge Hall told the courtroom: "Your primary victim sits in court and that lady has shown the utmost courage.
"No doubt for years she felt she had no voice and that she was powerless - well she's got a voice now."
He added: "No major city in England and Wales seems to have been spared this problem of grooming by older men acting together or alone."
Basharat Khaliq, 38, of Deanwood Crescent, Bradford, was found guilty of five counts of rape and one count of assault by penetration and jailed for 20 years
Saeed Akhtar, 55, of Back Girlington Road, Bradford, was convicted of two counts of inciting child prostitution and one count of rape and jailed for 20 years
Naveed Akhtar, 43, of Newport Place, Bradford, was found guilty of two counts of rape and cleared of one count of rape. He was jailed for 17 years
Parvaze Ahmed 36, of Farcliffe Road, Bradford, was convicted of three counts of rape and jailed for 17 years
Izar Hussain, 32, of St Leonard's Road, Bradford, was found guilty of one count of rape, one count of attempted rape and cleared of two counts of rape. He was jailed for 16 years
Zeeshan Ali, 32, of Durham Terrace, Bradford, was convicted of one count of sexual assault and jailed for 18 months
Kieran Harris, 28, of Fir Parade, Dewsbury, was found guilty of two counts of rape and jailed for 17 years
Faheem Iqbal, 27, of no fixed abode, was convicted of one count of aiding and abetting rape and jailed for seven years
Mohammed Usman, 31, of Quaker Street, Bradford, was found guilty of two counts of rape and jailed for 17 years
Yasar Majid, 37, of Milton Keynes, was cleared of rape
Nazir Afzal, former Chief Crown Prosecutor in north-west England, said: "Everybody responsible for the safeguarding of these young girls and every other victim has failed them.
"The police don't have the resources, the prosecutors don't have the resources and most importantly the community groups don't have the resources and I think we will be in this position and I will be having this conversation for years to come."
A statement from Bradford Council said: "The Safeguarding Board will look closely at this case to see if there are any lessons we can learn that could help us keep young people safer."
Related Internet Links
The BBC is not responsible for the content of external sites.