Marsden Moor fire: Blaze covering 3,700 acres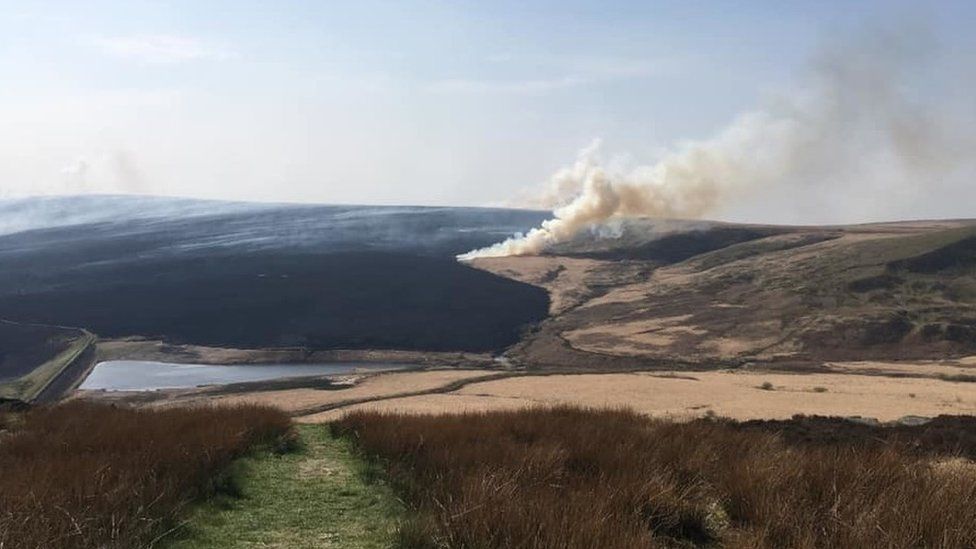 A blaze on moorland in West Yorkshire is covering an estimated 15 sq km (6 sq miles or 3,700 acres) of wildlife habitat, the National Trust has said.
The fire, which the charity said was "most likely" caused by a discarded barbecue, started on Sunday evening at Easter Gate on Marsden Moor.
The area near Huddersfield is important for rare nesting birds and for mountain hares.
Fire crews and a helicopter remain at the scene in an attempt to dampen down.
It was the sixth fire to have broken out there this year, and the most significant of recent years, the trust said.
The fire spread from Easter Gate across Close Moss and west towards Castleshaw in Saddleworth, Greater Manchester.
On Monday evening, the flames spread across the A640 towards Readycon Dean Reservoir, but crews fought this breakout back to the road.
Marsden Moor is designated as a Site of Special Scientific Interest, a Special Protection Area and Special Area of Conservation due to its ground nesting birds and bog habitat.
Deep peat covers much of the moor and is ideal for animals that like heavy rainfall and acidic soil.
The trust, which owns the moor, fears the biggest loss will be to birds such as curlews, merlins and golden plovers and to mountain hares.
Ten fire crews remain at the scene from West Yorkshire, Greater Manchester, Cumbria and Merseyside. One firefighter suffered burns to his head after working at the site in Marsden on Monday.
You may also be interested in:
Water pumps, a helicopter and a specialist high volume pump have been taking water from nearby reservoirs to the fire.
The fire was the second major moor fire in the county over the Easter weekend, after a blaze broke out in two areas of Ilkley Moor, covering about six acres (2.5 hectares)
Firefighters are still at the scene on Tuesday, damping down.
One fire began near the Cow and Calf rocks and another smaller one was near Dick Hudson's pub in Bingley.
Two other men arrested in connection with the fire have been released pending further investigation.
The trust said at least three new fires had started in the Binn Moor and Deer Hill areas near Meltham, near Huddersfield, on Tuesday.
Chris Lawton, from West Yorkshire Fire and Rescue Service, said: "There appears to be some further outbreaks of fire remote from this location, which we are dealing with.
"We have redeployed some air support to deal with those incidents.
"Sometimes it's not surprising that as the day warms up, the ground is parched, it doesn't take a lot to start a fire and cause significant damage."
Craig Best, from the National Trust, said: "We've invested several hundred thousand pounds in this landscape to make the moorland wetter, improve it for wildlife, improve the peat soils.
"We estimate about £200,000 of restoration has literally gone up in smoke."
Related Internet Links
The BBC is not responsible for the content of external sites.