Election results: Labour gains Calderdale Council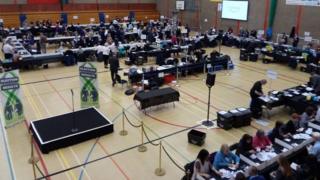 Labour has gained overall control of Calderdale Council for the first time in two decades.
The party held all six seats it was defending in the borough and gained all four of its targets, giving it an overall majority of five.
Labour kept control of Leeds but lost four seats, with the council leader claiming the party had been "punished locally" for national politics.
Judith Blake said voters had shown "anger and frustration".
In Wakefield, Labour lost three seats - one to the Liberal Democrats and two to independent candidates - but remains in overall control.
The party also retained Kirklees Council, ending up with 36 councillors, a loss of one, with the Conservatives losing three.
The biggest gainers in Kirklees were the Lib Dems, who gained three councillors compared to the 2015 election.
Labour Party leader Jeremy Corbyn campaigned in Calderdale in mid-April, with his trip featuring a visit to a youth activity centre in Hipperholme.
Tim Swift, the council's Labour group leader, said the result was "absolutely the best we have been hoping for".
"We were potentially targeting four gains, needing two for an overall majority," he said.
"To win all four and defend all our other seats successfully is an astonishing result."
With a third of the 51 seats up for election in Calderdale, the results leave Labour on 28, the Conservatives down six on 14, the Liberal Democrats on seven and Independents on two.
In Bradford, Labour held the Tong ward by the narrowest of margins after a drawing of lots was required following a dead heat with the Green Party candidate.
The local authority saw little change overall, with Labour retaining control.
Nationally both the Conservatives and Labour have been losing seats as voters punished them over Brexit.
Leeds Labour leader Mrs Blake said: "It is when we are in a situation such as now when we are being punished locally - people are feeling anger and frustration."
The highest-profile casualty for Labour in Leeds was Richard Lewis, the cabinet member for transport, who lost his Pudsey seat to the Conservatives.
Mrs Blake said: "Losing someone with the experience of Richard, who lives and breathes Labour values, is not easy."
Wakefield's Labour leader Peter Box said it had been a "disappointing" night for the party and he believed it was "down to Brexit".
"The truth of the matter is that no matter how good a local authority thinks it is, national politics will always play its part in local elections," he said.
"Politics is an unforgiving business."
Either search using your postcode or council name or click around the map to show local results.