Wakefield bakery fire thick black smoke covers city
About 140 firefighters are tackling a major fire at an industrial bakery in Wakefield, which is covering the area in thick black smoke.
The blaze at the Speedibake factory, close to Westgate Retail Park, started at about 13:30 GMT.
Police said there were no reports of injuries but the fire service said the "building construction may contain asbestos".
People living nearby have been told to shut all doors and windows.
The wind is also causing smoke to blow towards the city centre, West Yorkshire Police said.
Several roads have been shut and drivers have been told to find alternative routes.
Wakefield Council tweeted anyone "affected by the fire in Wakefield and unable to get home please make your way to Thornes Park Stadium", adding it would "remain open".
A spokesperson told BBC News: "There are 15 to 20 people currently there at the rest centre who are affected."
They said the council was helping people with transport to reach the stadium and it would help them return once the area was declared safe.
Wakefield residents who were earlier evacuated from the area can now return home, the council added, but they "are advised to keep all windows and doors closed as a precaution".
People also reported being evacuated from nearby buildings.
Connor Strachan, 19, from Alverthorpe, and Eleanor Goldthorpe, 17, had planned to watch Jumanji at the Cineworld cinema opposite the bakery, but when they arrived they were told they had to wait in the building.
Mr Strachan said there were nearly 100 people at the cinema, including some from Mecca Bingo directly opposite the bakery.
He said: "We were eventually let out, a lot of the other buildings were evacuated too."
Cineworld Wakefield tweeted at 18:00 GMT to say it was currently closed.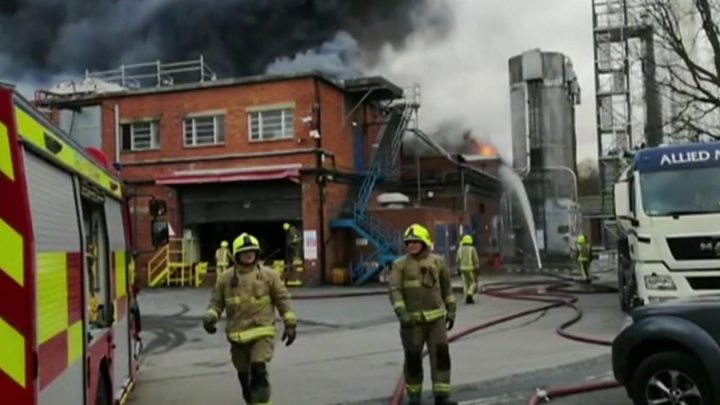 Nicky Harley was going to the B&Q shop on the retail park when the fire broke out.
"As I approached the store I saw police officers in masks telling people to move back," she said.
"There was heavy thick black smoke."
She said she then walked over to a nearby supermarket and saw people with their hands over their mouths saying they felt light headed.
"I also felt faint and light headed," she said.
"My friend is a nurse and she told me there might be a risk of airborne asbestos."
West Yorkshire Fire and Rescue Service initially warned of the potential for asbestos in the smoke plume, but later confirmed the substance was not present in the section of building hit by the blaze.
Power cuts were also reported but electricity has since been restored.
Northern Powergrid tweeted to thank customers for their patience during the outage.
Some people on social media also reported hearing explosions coming from the factory.
At the scene
Andrew Jackson, BBC News
Great palls of smoke have been covering much of the city skyline, with people stopping to look in astonishment.
The wind has blown the acrid smoke across large parts of the city as firefighters work to contain the blaze and police wearing protective masks have put road blocks around the scene, stopping people from getting too close to the factory.
People have been starting to make their way home and the area around the blaze is eerily quiet, disturbed only by the sound of trains passing by on a nearby line.
In a statement, West Yorkshire Fire and Rescue Service said: "As a precautionary measure we are advising people living in the vicinity to remain indoors and keep windows and a doors closed."
The service said it expected to remain at the scene for the next 24 to 48 hours.
Fire chiefs said the blaze had spread to about 75% of the ground floor of the building, with 140 firefighters from around the county on site.
One person tweeted to say crews were using water from a nearby duck pond to tackle the blaze.
Road closures include:
Lawefield Lane junction at its junction with Park Grove Road
Lawefield Lane at its junction with Westgate End
Westgate End at its junction with Alberthorpe Road
Ings Rd at its junction with the A61
Denby Dale Road at its junction with George Street
Denby Dale Road at its junction with Thornes Lane
Smyth Street at its junction with the A642
Follow BBC Yorkshire on Facebook, Twitter and Instagram. Send your story ideas to yorkslincs.news@bbc.co.uk.