Bradford new-build estate homes currently worth £0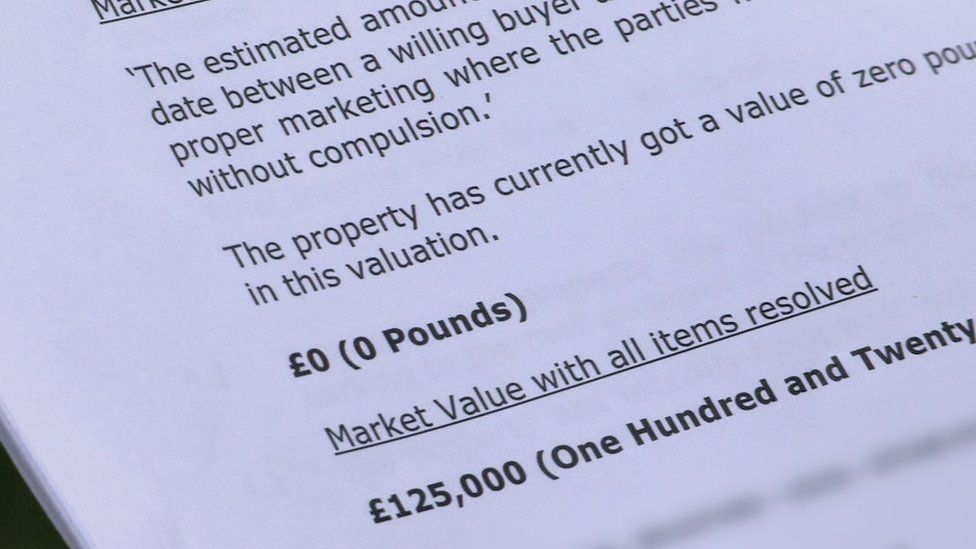 Residents on a new-build housing estate have been told their homes are currently worthless due to planning and building failures.
The 13 homes in Odsal, Bradford, were built by developers Sherwood Homes, which has since ceased trading.
Speaking to Rip Off Britain, families said they were left "in a state of panic" when they discovered their current £0 valuations.
The BBC programme attempted to contact the developers, but received no reply.
The estate adjoins a former landfill site, which has not been used for 40 years but a risk remains of methane gas being released from underground.
The developer was required to fit a layer of membrane to prevent gas escaping into the houses, but homeowners have no proof this was done correctly.
Some told the programme the development had not been completed in line with planning permission and final building compliance certificates had not been issued.
Chris Oliver, who bought a home for £130,000 in 2014, said he attempted to get his home revalued as part of a remortgaging process and the documents returned with a £0 estimate.
"Immediately our hearts sank. We thought, what are we going to do, how are we going to fix this?" he said.
"We contacted our solicitor, we tried to contact Sherwood Homes but there was no reply, they'd stopped answering calls and emails - we were in a state of panic."
Adeel Afzal bought his home for £175,000 and moved to the estate in 2016.
He said: "We are tied in to what we thought would be our forever home only to realise it was worth nothing, it was a big shock.
"As it stands I'm in £150,000 of debt to my mortgage provider, and I'm paying for a house that's worth nothing at all."
Both homeowners complained to their conveyancing solicitors, who denied any negligence but an offer was made to contribute towards completing the necessary work.
A Bradford Council spokesperson said: "Clearly residents have been let down by the developer and the agencies that worked for the developer, and that is why the council have supported residents through guidance and advice.
"We understand that a number of the residents have successfully taken legal action against the developer's agencies in order to rectify some of the problems on site, which the council considers to be the correct route for residents to be following."