Cottingley Fairies: How Sherlock Holmes's creator was fooled by hoax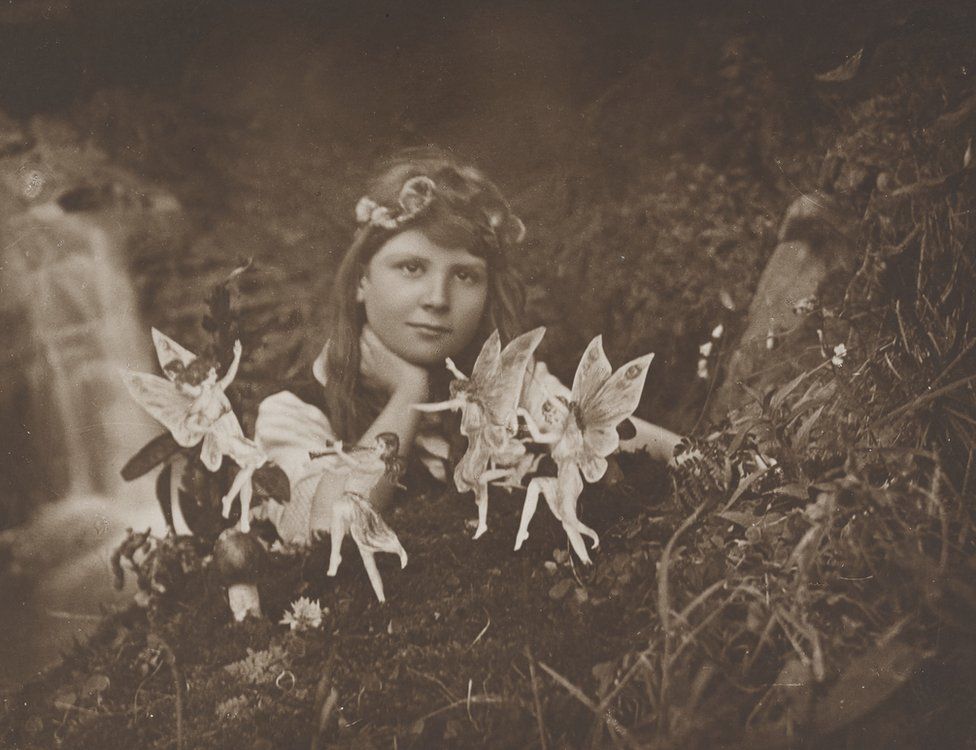 In December 1920 Sir Arthur Conan Doyle unwittingly gave credence to one of the greatest hoaxes of the 20th Century when he published the now world-famous Cottingley Fairies photos.
But how was the mind that created super-sleuth Sherlock Holmes taken in by two young girls armed with nothing but paper cut-outs and hatpins?
One summer's day in July 1917 nine-year-old Frances Griffiths came traipsing back into the house she shared with her cousin Elsie Wright, 16, and their two families.
Her shoes were soaked through from playing in the stream at the bottom of the garden and when her mother demanded to know why she said: "I go to see the fairies".
Determined to support her cousin, Elsie convinced her father to lend her his camera, saying she would bring back proof of Frances's claim.
When the girls returned and the picture was developed showing Frances surrounded by four prancing sprites, they were adamant the image was real.
To bolster their claim several weeks later they took a second photo showing Elsie with a dancing gnome.
Dr Merrick Burrow, guest curator of a forthcoming exhibition on the Cottingley Fairies, said the girls made a pact never to confess how they had taken the photos but with their parents stumped for the next three years the pictures were nothing more than a puzzling family anecdote.
"I do not think anybody really believed it," he said.
"But they couldn't explain how it had been done either."
Then in 1919 Elsie's mother took prints of the photographs to a talk about fairies by the Theosophical Society in Bradford.
The pictures then came to the attention of the society's president Edward Gardner, who gave a series of lectures on the photos in London in 1920.
From there word passed to Conan Doyle, who at the time was researching an article about fairy life as he sought to prove the case for his long-standing interest in spiritualism.
Dr Burrow, Head of English and Creative Writing at the University of Huddersfield, said the author was initially suspicious the pictures might be a hoax and feared he was being set up by those keen to prove him "gullible" and to debunk his beliefs.
He said from Conan Doyle's point of view, however, "if these photos proved the existence of fairies, and that you could photograph the supernatural, then they were a staging post in the argument for spiritualism".
He said Conan Doyle had several experts look over the photographs before publishing them in The Strand magazine in December 1920.
In the accompanying article Conan Doyle said the images, if proven to be real, would "mark an epoch in human thought" and argued that "after carefully going into every possible source of error, a strong prima facie case has been built up" for their veracity.
He wrote: "The recognition of their existence will jolt the material twentieth-century mind out of its heavy ruts in the mud, and will make it admit that there is a glamour and a mystery to life.
"Having discovered this, the world will not find it so difficult to accept that spiritual message supported by physical facts which has already been so convincingly put before it."
Following its publication in Britain the article went on to be published in Australia and the US and the images achieved world-wide notoriety and sparked fierce debate.
Dr Burrow said despite attracting "widespread scepticism" Conan Doyle bought cameras for the two girls and asked them to take further photos.
"I think he believed it," said Dr Burrow, "but he was also being strategic.
"I do not think he was that interested in fairies per se but he was enormously invested in the idea that there was more to the world than what we consider normal reality."
The author went on to write a book about the Cottingley Fairies and even discussed with Gardner a film on the subject.
He died in 1930 but the debate about the photos he had brought to the attention of the world raged on for decades until in 1983 Frances and Elsie confessed the photographs had been faked.
Dr Burrow said he viewed the story of how the photos came to prominence as an "accidental conspiracy" but that without Conan Doyle's involvement there would have been no story.
"When the girls took the photos there were a few prints made at the time by the family but that would have been it," he said.
"[Without him] I imagine they would have been lost in a drawer somewhere, just a quirky family story."
Speaking to the BBC in 1983, Frances Griffiths said: "I never even thought of it being a fraud. It was just Elsie and I having a bit of fun.
"I can't understand to this day why people were taken in. They wanted to be taken in.
"People often say to me 'Don't you feel ashamed that you have made all these poor people look like fools? They believed in you.' But I do not, because they wanted to believe."
Dr Burrow will be giving a free online talk about the Cottingley Fairies collection on 10 December.
An exhibition, "The Cottingley Fairies: A Study in Deception", will be on display in the Treasures of the Brotherton Gallery in 2021.
Related Internet Links
The BBC is not responsible for the content of external sites.