Covid-19: PM praises Batley centre for myth debunking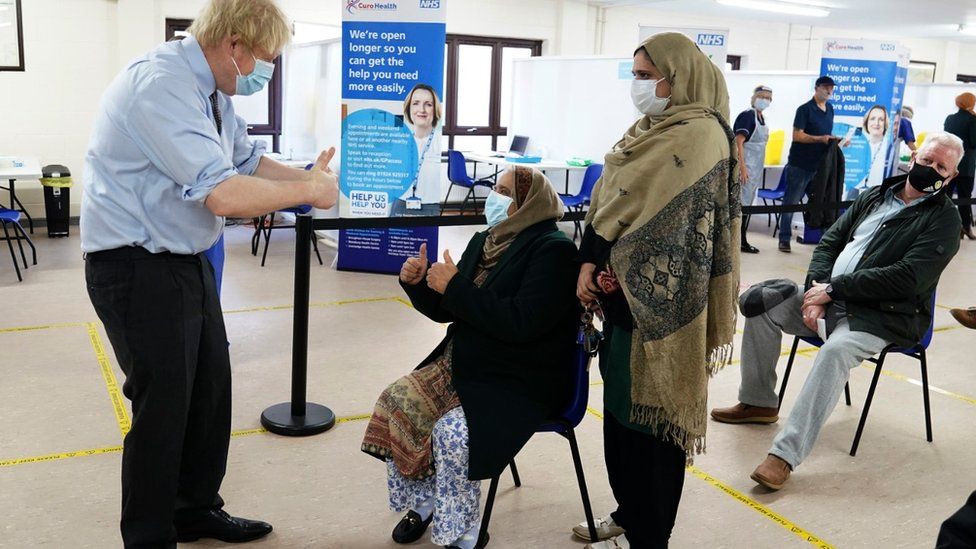 Prime Minister Boris Johnson has praised staff at a West Yorkshire vaccination centre for their work dispelling myths around Covid vaccines.
On a visit to the Al Hikmah centre in Batley, Mr Johnson said the key to success was "spreading a sense of positivity about the vaccine".
The centre has been vaccinating about 600 patients a day since it opened.
The Prime Minister said so far, 97% of over-80s in Yorkshire had received their first dose of a Covid vaccine.
West Yorkshire has mass vaccination sites in Huddersfield and Wakefield, with a third recently opening in Bradford.
There have been concerns that take-up of the vaccine has been low among black and Asian communities and other ethnic minority groups.
A poll commissioned by the Royal Society of Public Health in December suggested 57% of black, Asian and minority ethnic people would be happy to have the coronavirus vaccine, compared with 79% of white people.
Mr Johnson said to the staff at the Batley centre: "I thank them for the work they're doing to dispel some of the nonsense about vaccines.
"I think it's about spreading a sense of positivity about the vaccine, I think that's what we want to see and I think that's working."
Concerns about fake news have also been raised by Dr Harpreet Sood, who is leading an NHS anti-disinformation drive.
Dr Sood said some false reports may be causing some people from the UK's South Asian communities to reject the vaccine.
Nadeem Raja, from the Batley-based Indian Muslim Welfare Society, said: "Because we've been established for so long in this area, people have that trust and faith.
"Our mosques are very helpful and they help us to deal with any disinformation as well."
Kashmira Kaur, who was accompanying a parent being vaccinated at the Al Hikmah centre, said: "We need to protect lives and help our communities and especially with the black and Asian community.
"They are more at risk so it's very important that you have the injections."