Covid: Sister raises younger siblings alone after mum's death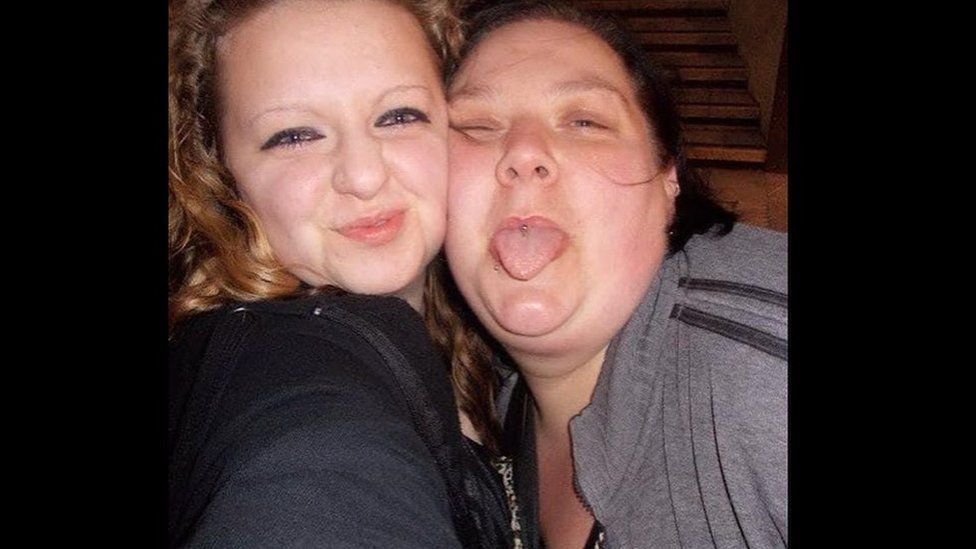 For Chelsea-Leigh Richardson and her four siblings, life has changed beyond belief since their mum Sarah died with Covid in October, aged 42.
"Mum was our everything, then all of a sudden she was gone," she said.
Faced with the loss of their only parent, the 21-year-old went from big sister to the sole carer of her younger brothers and sisters - Kala-Jai, 19, Jayden, 17, Preston-James, 14, and seven-year-old Bobbee-Mae -overnight.
Chelsea was determined the five of them would not be split up, so she became the glue to hold them together.
She says: "I pulled my big girl knickers up and said to myself: 'Come on Chels, you can do this. Be brave.'
"My mum raised us alone and always taught us that no matter what life throws at you, you've to dust yourself down and come back stronger. If I took myself away from the kids, where would they go? It just wasn't an option. I had to make sure we all stayed together."
Her mum's symptoms started with the loss of her senses of smell and taste and over the next two weeks got worse. Towards the end of her self-isolation she deteriorated quickly and was taken into hospital struggling to breathe.
"Mum was on a ventilator and the doctor phoned and told me to prepare for the worst. I just froze. It absolutely broke my heart. I remember getting off the phone and screaming. At that point the kids didn't know how poorly mum was so I had to sit them down and explain.
"That night I made sure they'd all had something to eat and put them to bed but I couldn't sleep."
In the early hours came the call Chelsea-Leigh had dreaded. She was told to come to the hospital to say her goodbyes.
"After mum passed I had to come home to tell the kids she had died. I can't even put into words how horrendous that was. There was just silence, confusion and tears. It was the most horrible, rotten feeling that none of us could escape from."
The five siblings, from Leeds, muddled through until Chelsea-Leigh eventually sought help and was given a social worker and family support officer. She has applied for parental guardianship and is awaiting a court date.
"This is more about the younger ones, Bobbee and Preston, because Kala is 19 and Jayden will soon be 18.
"I want us all to stick together as a family. I'm not bothered about my feelings. I just want the others to be ok."
Now together with the support of her grandma, aunt and uncle, the siblings are learning to cope with their new normal. Their community has been so touched that both the local butcher and greengrocer have pledged a year's supply of food to the family.
Chelsea-Leigh juggles school runs, making dinner and sorting out bath times along with her full-time work of studying to be a nurse. Time to herself is a thing of the past.
"We kind of have this unorganised routine which works," she says.
"Before losing Mum I only ever had myself to think about. Now I've to make sure the kids are at school on time and that Bobbee's plaits are done.
"On a weekend I don't go anywhere without a child. Bobbee is stuck to me like glue but the kids have been my godsend."
Jayden describes his older sister as "brilliant" while Preston says Chelsea-Leigh "has done everything for us", adding: "I really love her."
But for all the siblings the grief of their "irreplaceable" mum is still raw.
Chelsea-Leigh says: "Mother's Day was really difficult and generally some days are better than others.
"We've had all these days since mum died like Bobbee's birthday, Christmas, New Year, Mother's Day and it just feels so weird that she's not there.
"Bobbee has really surprised me. For her age she's shown such resilience and I think if she can handle this then so can I.
"We talk about mum and say she's a star in the sky. We might not be able to see her all the time, but we know she's always there."