Prophet Muhammad cartoon sparks Batley Grammar School protest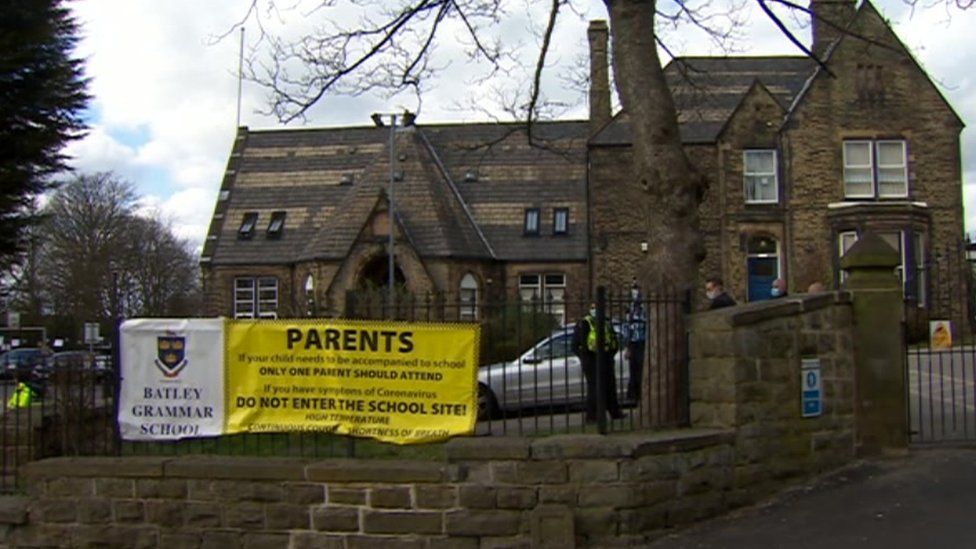 A teacher who showed pupils an "inappropriate" cartoon of the Prophet Muhammad - sparking protests outside a school - has been suspended.
The image depicting the founder of Islam was used in a lesson at Batley Grammar School on Monday.
Videos posted online show dozens of people standing outside the school on Thursday, with some demanding the teacher be sacked.
The government said it was never acceptable to "intimidate" teachers.
Head teacher Gary Kibble apologised "unequivocally", adding the member of staff had "given their most sincere apologies" and been suspended pending an investigation.
"We have immediately withdrawn teaching on this part of the course and we are reviewing how we go forward with the support of all the communities represented in our school," he said.
"It is important for children to learn about faiths and beliefs, but this must be done in a sensitive way."
A Department for Education spokesperson said: "It is never acceptable to threaten or intimidate teachers."
They said they encourage dialogue between schools and parents when issues emerge, adding: "However, the nature of protest we have seen, including issuing threats and in violation of coronavirus restrictions, are completely unacceptable and must be brought to an end.
"Schools are free to include a full range of issues, ideas and materials in their curriculum, including where they are challenging or controversial, subject to their obligations to ensure political balance.
"They must balance this with the need to promote respect and tolerance between people of different faiths and beliefs, including in deciding which materials to use in the classroom."
One of the protesters, a local resident who gave his name as Abdullah, said the cartoon offended "the whole Muslim community".
Abdullah, who told the BBC he was not a parent but had relatives at the school, said up to 100 people, including pupils, had taken part in the protest.
"This is a time when we can't stay quiet, we need to stand up and let them know, the head teacher, the school and the governing body, that this is not something light. There's a line you can't cross," he said.
One parent outside the school told BBC Radio Leeds she had been upset the cartoon was shown, but she did not agree with the protest, saying it was "quite scary and intimidating".
Another mother said the use of the material was "out of order and unacceptable" and said she may consider removing her child from the school.
Dr Abdul Shaikh, a local academic in Batley and Muslim activist, told the PA news agency: "I was shocked like many Muslims in the town that Muslim school children's religious sensitivities were completely ignored by the school teacher who decided to show an offensive image that lampooned the noble Prophet Mohammed."
A spokesperson for West Yorkshire Police said the road near the school had been closed for a short time during the protest.
No arrests were made and no fixed penalty notices had been issued, the spokesperson added.
According to a 2015 Ofsted report Batley Grammar had 689 pupils of which almost three-quarters were from a minority ethnic background.
Related Internet Links
The BBC is not responsible for the content of external sites.