Batley school protests: Petition calls for teacher to keep job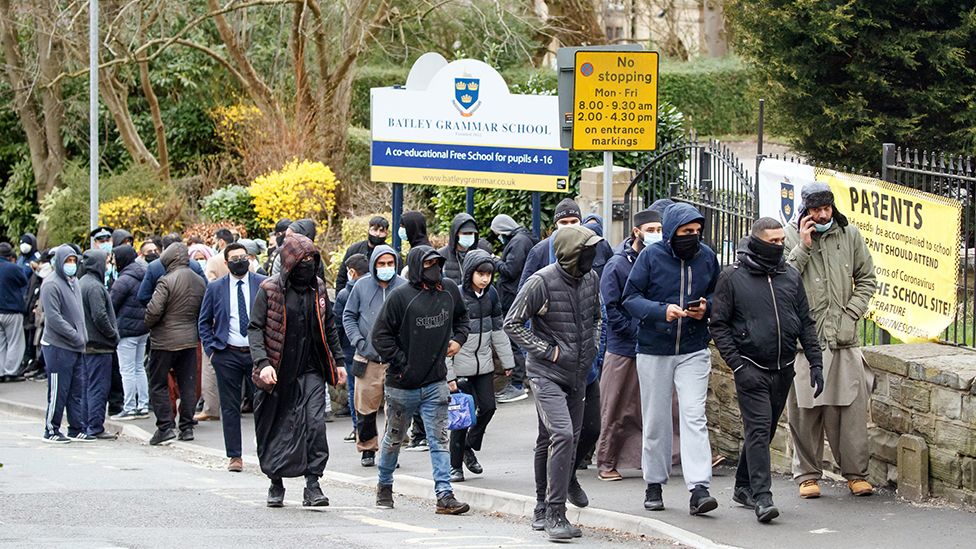 A petition defending a teacher who showed pupils a "deeply offensive" cartoon of the Prophet Muhammad has gathered more than 44,000 signatures.
The staff member was suspended after protests were held outside Batley Grammar School.
The petition said the teacher "does not deserve such large repercussions" and should be reinstated.
The organisers behind the online petition claim to be students at the West Yorkshire school.
They said the teacher "was trying to educate students about racism and blasphemy" and was "not racist and did not support the Islamophobic cartoons in any manner".
It added: "This has got out of hand and due to this, students have missed out on lessons because of 'peaceful' protestors" .
Dr Shazad Amin, deputy chair of Muslim Engagement and Development (MEND), an organisation which helps Muslims engage with British media and politics, said it had been helping several parents liaise with the school.
He said he saw "no problem" with blasphemy being discussed at the school but said the particular image shown to pupils was "deeply offensive" and "furthered stereotypes and anti-Islamic tropes".
As a result, he said, people in the local community had "a right to feel hurt and a right to feel angry" but called for them to allow the matter to be properly investigated.
Speaking on Friday morning, Communities Secretary Robert Jenrick called for the "deeply unsettling" scenes outside the school to "come to an end".
Head teacher Gary Kibble said the teacher had "given their most sincere apologies" for the caricature being shown and said an investigation had begun.
Related Internet Links
The BBC is not responsible for the content of external sites.