Domestic abuse: 'Girls shouldn't live in fear of dad killing mum'
By Sabbiyah Pervez
BBC Look North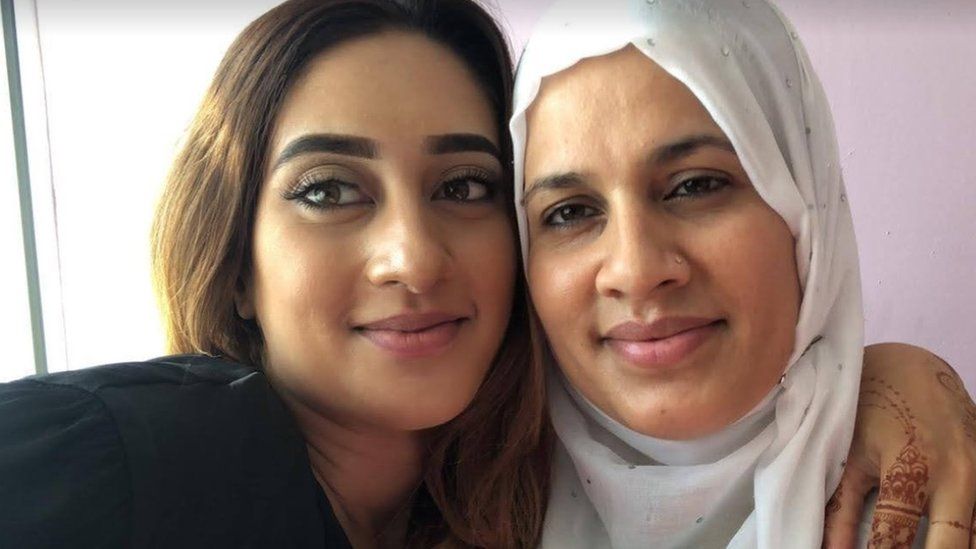 A domestic violence charity says "hidden abuse" has particularly affected women from ethnic minorities during the pandemic. Many feel unable to seek help, while some of those who do face obstacles others may not. One woman, whose father killed her mother during lockdown after a 21-year campaign of torment, believes her mum's lack of English and reliance on her husband made her more vulnerable.
Abida Karim would always have black eyes. Her daughter Riya recalls being as young as five and watching her dad punch, pull and drag her mum about. One day, she feared, the beatings would become so severe that Abida would die.
Her mum was trapped in a torturous marriage to Sajid Pervez for 21 years. Riya, now 21, witnessed the violence for most of her life.
"It was very toxic. When my dad finished work, it was always like: 'What's going to happen today?'," she says.
"Is my mum going to get beaten up? It was that constant tightness in the heart."
Abida and Sajid came to England from Pakistan after an arranged marriage and settled in Leeds. She did not speak English and was reliant on her husband.
"My mum was scared and didn't have anyone in the UK. My dad would say to her: 'If you leave me, you're not going to get anywhere without me'," Riya says.
"She was an educated woman in general, but I think if she was educated in England and if she did speak English, she would have definitely been a bit more powerful.
"I felt angry more than helpless, I was thinking: 'Why isn't she leaving him, why isn't there enough help?'"
Last September, the years of abuse ended in Abida's death, aged 39, at the family's home in the Harehills area of Leeds.
Riya believes West Yorkshire Police could have done more to protect her mother. She says they both reported the abuse several times. On one occasion, Riya says, an officer told them "every husband and wife goes through this".
"I was thinking I don't think that's true. I don't think every husband is beating their wife like my mum is getting beaten up," Riya says.
Abida's murder during the pandemic happened as police in England and Wales recorded a rise in domestic abuse offences. Charities and campaigners say the true scale of "hidden abuse" among ethnic minority communities is not reflected in police figures.
Nahid Rasool, from Shanatona, a Leeds-based charity which helps to support vulnerable women from south Asian backgrounds, says they have helped more than 1,000 women and girls in the past year, none of whom had reported the abuse to police.
She says a lack of English language skills and mistrust and stigma attached to the issue made women less likely to seek help.
"When women come here they completely depend on their families and their husbands so how can they leave relationships when they're not independent?" Ms Rasool says.
"It's accepted for males to shout, hitting isn't unusual, a lot of women say: 'Well this is what men do'.
"What they don't understand is that this isn't normal behaviour and that's where we try to raise awareness."
West Yorkshire Police say a domestic homicide review into Abida's murder was planned, which would attempt to identify any lessons from "the way local professionals and agencies work individually and together to safeguard victims".
The force says it "has a zero-tolerance policy in respect of domestic abuse".
"We will record any criminal offences, support the victim and will prosecute wherever possible and appropriate."
Riya says she wants to tell her story in the hope that no other young girl has to live in fear of their mum being murdered.
"It doesn't get any better, no matter how many times someone will say sorry to you and that they'll never do it again, they will," she says.
"My hopes are women speak up more. I hope more support is put in place and that police take it more seriously."
If you are affected by any of the issues in this story, you can find support on the BBC Action Line.