Tommy Robinson loses Jamal Hijazi libel case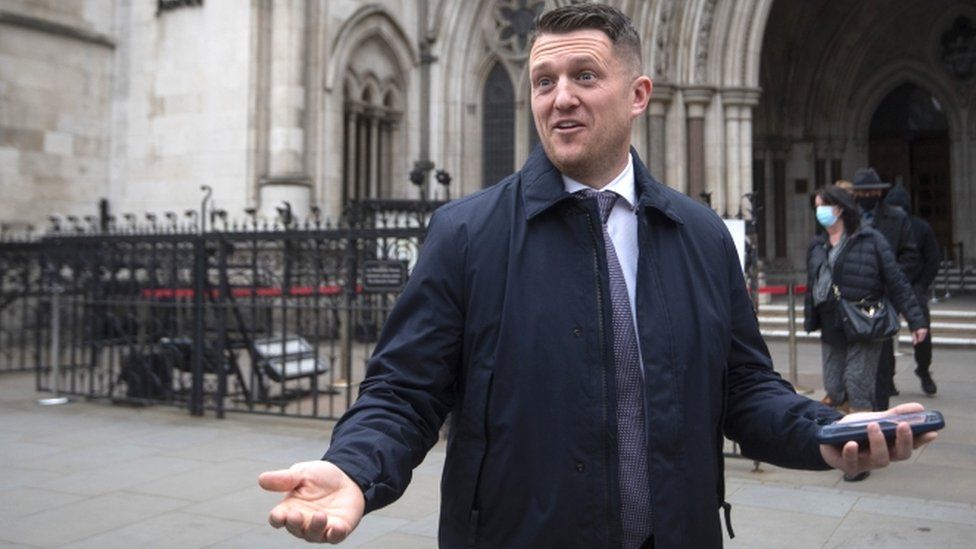 English Defence League founder Tommy Robinson has been ordered to pay £100,000 in libel damages to a Syrian schoolboy.
The anti-Islam activist, real name Stephen Yaxley-Lennon, published two Facebook videos in response to a viral clip of Jamal Hijazi being attacked.
He failed to convince the High Court his claims, such as Mr Hijazi attacking "young English girls", were true.
Mr Justice Nicklin found in Mr Hijazi's favour after a trial earlier this year.
The judge also ordered Mr Yaxley-Lennon to pay legal costs understood by the BBC to amount to about £500,000.
Mr Hijazi was filmed being attacked in the playground at Almondbury School in Huddersfield in October 2018.
Shortly after the video of the assault went viral, Mr Yaxley-Lennon claimed in two Facebook videos that the teenager was "not innocent and he violently attacks young English girls in his school".
In clips viewed by nearly one million people, the 38-year-old also claimed Mr Hijazi "beat a girl black and blue" and threatened to stab another boy at his school, allegations denied by Mr Hijazi.
"As was entirely predictable, the claimant then became the target of abuse which ultimately led to him and his family having to leave their home, and the claimant to have to abandon his education.
"The defendant is responsible for this harm, some of the scars of which, particularly the impact on the claimant's education, are likely to last for many years, if not a lifetime."
The judge said Mr Yaxley-Lennon's defence that the "very serious" allegations were substantially true had not been proved, and he had used language "calculated to inflame the situation".
"The defendant's contribution to this media frenzy was a deliberate effort to portray the claimant as being, far from an innocent victim, but in fact a violent aggressor," he added.
At a further hearing, the judge granted an injunction against Mr Yaxley-Lennon preventing him from repeating the allegations.
The final damages and costs figures will be agreed and submitted to the High Court at forthcoming hearings to establish Mr Yaxley-Lennon's means and assets.
Stephen Yaxley-Lennon's repeated jailings down the years - including nine months for interfering with a trial of a sexual grooming gang - have failed to silence him. But a turning of the legal screw on his finances may have a more profound effect.
The cash began to dry up as he was thrown off Facebook and Youtube and some of his wealthy benefactors in North American backed away. Today, his social media reach is a shadow of what it once was. It's never been clear how much he made and where it has all gone - and that's why this judgement is so important. Not only does it vindicate Jamal Hijazi - but it opens the door to a court examination of his finances and how he affords to keep his activities going.
Jamal Hijazi's lawyers welcomed the judgement and praised Mr Hijazi's "courage" in pursuing the claim.
Francesca Flood, from Burlingtons Legal, said: "Jamal and his family now wish to put this matter behind them in order that they can get on with their lives.
"They do, however, wish to extend their gratitude to the Great British public for their support and generosity, without which this legal action would not have been possible."
During a trial in April, Catrin Evans QC, for Mr Hijazi, said that Mr Yaxley-Lennon's comments led to the teenager "facing death threats and extremist agitation" and that he should receive damages of between £150,000 and £190,000.
She described Mr Yaxley-Lennon as "a well-known extreme-right advocate" with an "anti-Muslim agenda" who used social media to spread his views.
His videos "turned Jamal into the aggressor and the bully into a righteous white knight", she said.
Mr Yaxley-Lennon, who represented himself during the trial, maintained he was an independent journalist, telling the court: "The media simply had zero interest in the other side of this story, the uncomfortable truth."
Related Internet Links
The BBC is not responsible for the content of external sites.