Silsden school field: Children spell out 'not for sale'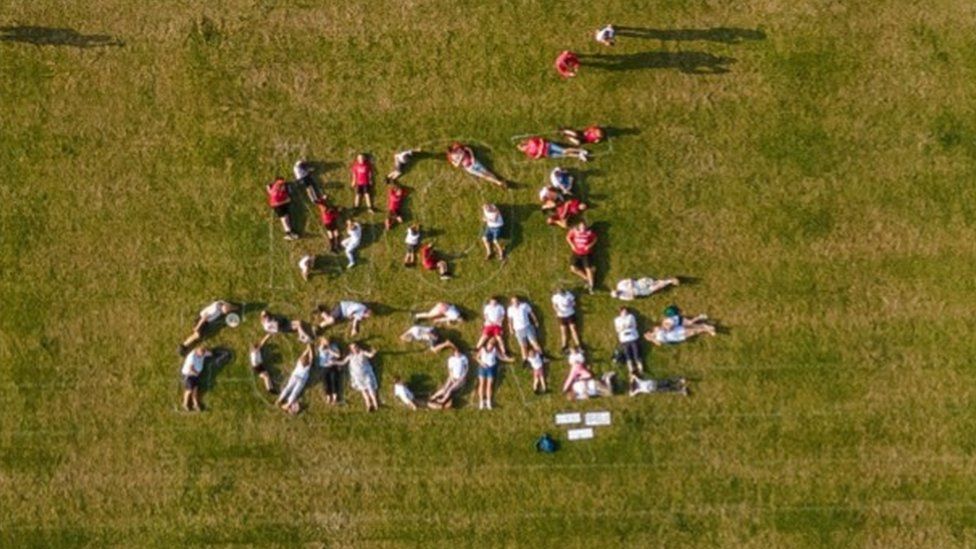 Children who fear a beloved playing field could be replaced with houses laid down on the ground to spell out "not for sale" in protest.
The green space, in Silsden, West Yorkshire, could be sold by Bradford Council to raise funds for a new school.
Opponents say the land is frequently used by sports clubs and the nearby school, which is split over two sites.
Bradford Council said any objections to the sale would be considered.
Families from the local area gathered on the site this week to campaign against the sale plans.
Drone pictures show children arranging themselves to spell out the "not for sale" message, surrounded by dozens of supporters.
The Hive community centre, which backs on to the field, has applied for the land to become an Asset of Community Value (ACV), allowing it to submit its own bid.
Manager Jill Cook said: "The Hive, and the field, are important for all members of our community, for families to meet up and let younger children play in a safe environment."
Silsden town councillor Darren Edwards added: "Silsden is already overdeveloped, we have houses down at Harron Homes, Skipton Properties and up at Saxon Dene.
"To put more houses up on The Hive, where children can congregate and play, would be a bad idea."
Robbie Moore, Conservative MP for Keighley and Ilkley, said he supported the protest but was unable to attend as he is currently self-isolating for Covid-19.
He said: "I share the concerns of my constituents that there is limited green space within Silsden, especially at this particular side of the town and I will be meeting again shortly with the trustees and Hive team to discuss the matter further.
"I will do my utmost to ensure this land can be used as a recreation ground for the community."
A Bradford Council spokesperson said: "There is a nomination to add the land to the List of Assets of Community Value and a decision about that will be made shortly.
"As the land is public open space, any objections to its sale will be considered as part of the disposal process along with any objections to a planning application for a change of use.
"We will always listen to the views of the local community and take them into account before any decision is made."
Related Internet Links
The BBC is not responsible for the content of external sites.