Lockdown DJ Dale Castell's Halifax Piece Hall gig 'emotional'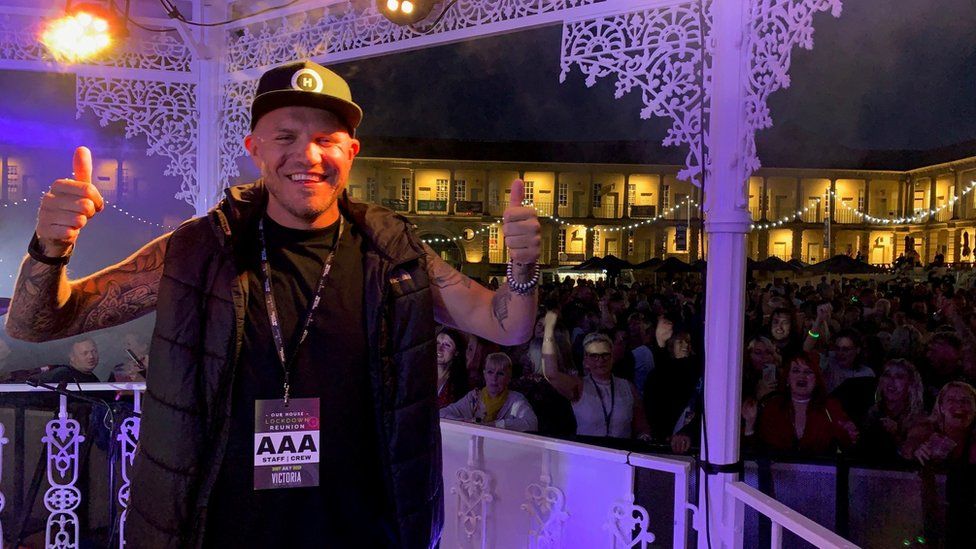 A DJ's first live open-air gig after playing to thousands during lockdown was "emotional", revellers said.
Dale Castell's event in his hometown of Halifax came after streaming DJ sets over Facebook from his son's bedroom in Leeds from the start of the pandemic.
He told the crowd at the Piece Hall: "This is the best night of my life, thank you for sharing it with me."
Clubber Tracy Marshall said the DJ's sets became "the only thing we had to look forward to".
She said her boyfriend booked tickets as a birthday surprise for her after she started listening to the DJ in March 2020.
"It's quite emotional, it felt like a community," she added.
Becki Huse, who grew up in Halifax, said she was living in Sydney during lockdown when she started listening to Dale after seeing posts on Facebook.
"It was so nostalgic and reminded me of home at one of the most difficult times of my life," she said.
"I was breastfeeding a newborn and had a toddler and I dreamed of being back at home."
Ms Huse returned her hometown in July with her husband James and their two sons.
More than 1,800 clubbers attended the sold-out gig on Saturday night, which was held at the town's landmark venue.
Another reveller, Rebecca Woods, also said it was "quite emotional" and described how the DJ's mother Janet "got up on stage at the end for a dance while everyone chanted her name".
"You could see how much it meant to Dale to see everyone there in person after all those months playing to people dancing in their kitchens," she added.
Mr Castell said it was "like we've never been away".
"The buzz you feel from playing to a live audience is amazing and I've missed that feeling," he said.
The DJ said he was initially "really nervous" but the nerves disappeared when he saw the crowd.
"Last night was a celebration of music and friendship and it was absolutely beautiful.
"The atmosphere was unreal and even the police community officers were dancing."
The event in Halifax was originally planned to take place at the town's Victoria Theatre, but was moved to an outdoor venue when the council raised concerns about ventilation, amid fears over the spread of Covid-19.
Related Internet Links
The BBC is not responsible for the content of external sites.