Star Hobson: Savannah Brockhill guilty of murder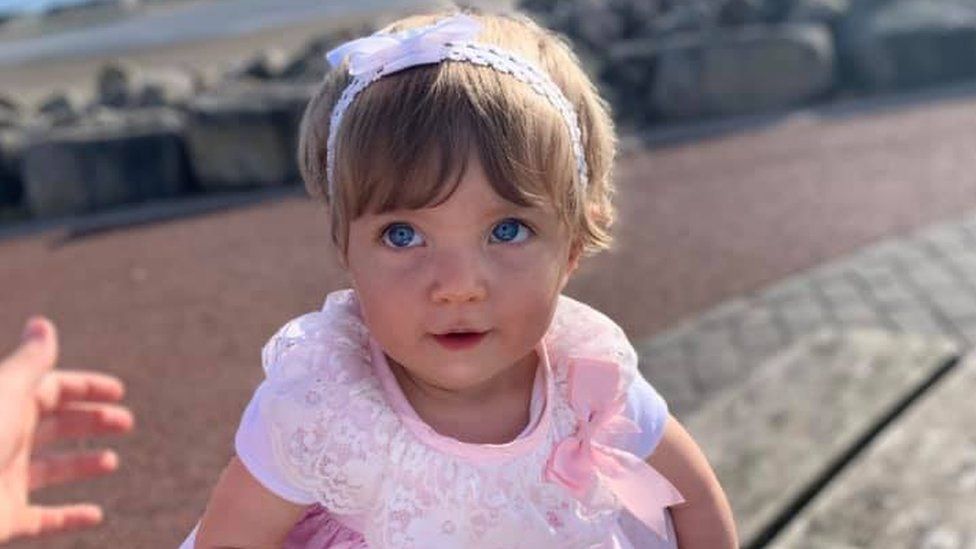 A woman has been found guilty of murdering her partner's 16-month-old daughter after months of mistreatment.
Savannah Brockhill caused "catastrophic" injuries to Star Hobson, whose mother Frankie Smith was convicted of causing or allowing her death.
Bradford Crown Court heard Star suffered weeks of physical abuse before the fatal assault.
Smith, 20, and Brockhill, 28 will be sentenced on Wednesday.
During a seven-week trial jurors heard the infant, from Keighley, near Bradford, had suffered a number of injuries at different times, including a shin fracture caused by "forceful twisting".
In evidence, family members said they began to notice bruises and marks on Star's body after Smith entered into an on-off, violent relationship with "domineering and controlling" Brockhill.
The pair would document their abuse in photos and videos, sometimes uploading clips of the "exhausted" toddler, with visual effects and comical background music, to social media.
Speaking outside court following the verdicts, Star's great-grandfather David Fawcett said Smith had been coerced, bullied, abused and "brainwashed" by the older woman.
Describing Brockhill as "pure evil", he said: "She ascended from the bowels of hell and just completely devastated and wrecked our family and poor baby Star's life.
"We saw Frankie covered in bruises long before things started happening with Star, so we knew then something was not right.
"We did our best, but she was isolated."
Prime Minister Boris Johnson said Star's death was "shocking and heartbreaking".
"We must protect children from these barbaric crimes and ensure lessons are learned," he tweeted.
Family members and friends made five referrals to Bradford City Council between January and September 2020, just weeks before Star's death.
Mr Fawcett said Star's great-grandmother, Anita Smith, warned social services they "would have another Baby P on their hands" when the couple contacted the department in May.
Star's death had "torn the family apart", Mr Fawcett said, and he believed it "could have been prevented if they acted sooner".
"You just can't believe we're never going to see her again," he said.
"It's the facts of what happened to her as well, that's killing us. To lose a child, it's a horrible feeling. But it's the way we lost Star that's just horrendous."
Hollie Jones, Star's former babysitter, who made the first referral, said she felt "really angry" and that "social services need to step up more".
"I'm just really gutted because I think changes really need to be made…because if they took my referral seriously, potentially Star wouldn't be gone," she said.
In a joint statement, Bradford Council, along with the city's safeguarding agencies, said they "deeply regret that not all the warning signs were seen".
"We are very aware as partners that there is much that we need to learn from this case.
"We have already put in place actions that will improve our practice so we learn those lessons. But we need to fully understand why opportunities to better protect Star were missed."
Bradford Council leader Susan Hinchcliffe said: "Social workers in our district support a great many children and young people and carry out work in circumstances that are often very challenging.
"It is essential, therefore, that lessons are learned from Star's terrible death so we can better protect our children."
In Star Hobson's case, her wider family was concerned, social workers and police visited, but none got a picture of what was really going on.
For both children, manipulative parents or partners kept questioners at bay, but there is a wider context.
More generally, during a decade of squeezed budgets, children's services have increasingly concentrated efforts on clearly high-risk cases. Research shows between 2010 and 2020, spending on early intervention halved.
This lower-level family support can head-off later problems and certainly Star's mother was said to have struggled as a parent for some time.
It is impossible to know whether more family services, embedded in local communities, would have made any difference in these cases, but we do know they provide an important safety net.
Bradford Council's Local Child Safeguarding Practice Review into Star's death is due to be published in January 2022.
The Department for Education said findings from the report would "feed into the national review of Arthur Labinjo-Hughes' death" which was commissioned earlier this month by the Secretary of State.
Education Secretary Nadhim Zahawi said his government department was taking action "to strengthen how safeguarding agencies work together locally to protect children at risk of abuse or neglect".
Mr Zahawi added that since Star's death a commissioner had been appointed "to assess Bradford's capability and capacity to improve" and he had met him on Monday to discuss the progress being made.
"This includes whether the council should retain control of their children's services, ahead of his full report in January. On seeing the report we will not hesitate to remove service control if that is what's necessary to drive rapid improvements," he said.
Meanwhile, Robbie Moore, Conservative MP for Keighley and Ilkley, has called for the resignation of Bradford Council leader Susan Hinchcliffe and the council's chief executive Kersten England in the light of the Star Hobson case.
The BBC is not responsible for the content of external sites.
Skip twitter post by Robbie Moore MP
Allow Twitter content?
This article contains content provided by Twitter. We ask for your permission before anything is loaded, as they may be using cookies and other technologies. You may want to read Twitter's cookie policy, external and privacy policy, external before accepting. To view this content choose 'accept and continue'.
The BBC is not responsible for the content of external sites.
End of twitter post by Robbie Moore MP
West Yorkshire Police said its investigation into Star's death was "one of the most distressing and heart-breaking cases our team has seen".
Det Ch Sup Mark Swift, who led the inquiry, said: "I welcome the verdicts from the jury for both Smith and Brockhill. Their actions were absolutely barbaric against a defenceless young baby whose life was cruelly cut short."
Frankie Smith was cleared of an alternative count of manslaughter.
Related Internet Links
The BBC is not responsible for the content of external sites.