Ukraine conflict: Airbnb donations fund 15,000 meals a day in Kyiv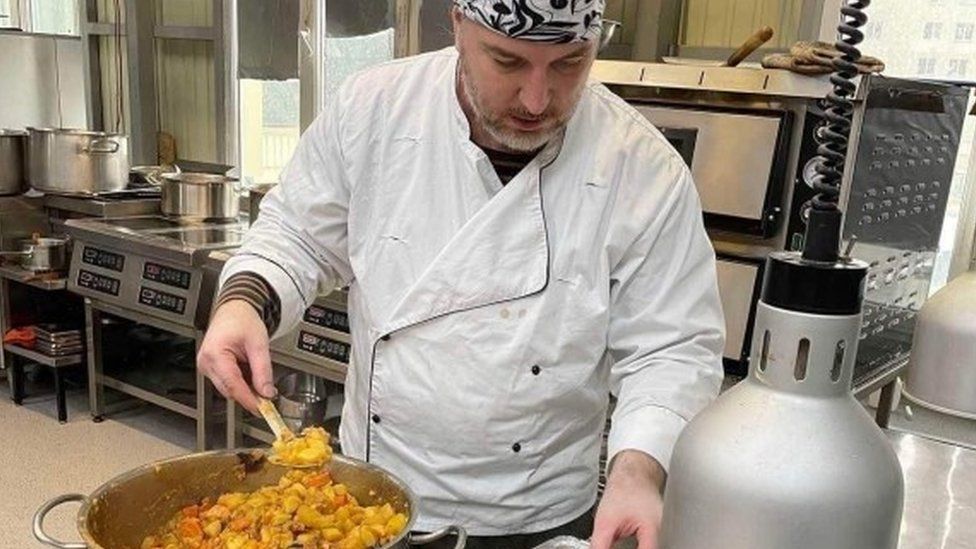 A man from West Yorkshire has struck up a friendship with staff at a hotel in Kyiv after donating money through an Airbnb fundraising scheme.
People from all over the world are booking a stay at the Campus Community A-Hotel, but have no plans to visit.
Paul Sutton, 48, from Leeds, said the scheme had brought people together.
The hotel says it is using donations to provide 15,000 meals a day for military personnel, hospitals, orphanages and nursing homes in the Ukrainian capital.
The rooms at the hotel cost between £7 and £10 a night and those who book for a stay are contributing to the cost of meals, medicine, and shipment fees to transport the food around Kyiv.
Mr Sutton said he had booked four nights at the hotel, with a promise that when he gets paid he would be be putting another donation in.
"And we'll keep on going every month if we need to," he said.
War in Ukraine: More coverage
Mr Sutton, a customer services manager, said the idea had "brought a lot of people close together", adding: "I hope it's reassuring that they know so many people are on their side."
He said he also planned to visit the hotel when it was safe to do so.
"We've never previously considered Kyiv a holiday destination, but we've made a friend out there in a very difficult time for them," he said.
"It's absolutely the intention that once this is all over, even if it's to go help rebuild, we want to go across and meet these wonderful friends without faces that we made and celebrate."
Hotel manager Artur Gabovich, said he was "very grateful" for the donations, adding that hotel staff would "never give up" working to provide the city with food.
"It shows big support for our country, for our people, and for what is going on," he said.
"People are booking rooms, and they consider it a donation because nobody will come to a hotel right now - of course, we're in the centre of a war," he added.