Postcard record claimed by Nottinghamshire village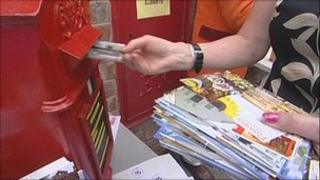 The world record for sending postcards has been claimed by a village in Nottinghamshire.
Residents and businesses in Keyworth have printed, franked and sold thousands of cards to help fund a new children's park.
Organisers said they had so far posted more than 7,500 and the result would be sent for ratification.
The previous record for mailing cards from one location in 24 hours was 5,217, held by a village in India.
The postcards, which have been sponsored by a number of local businesses, cost 65p each with 33p going towards the park.
Official adjudicators
Organiser Brian Lund said: "It has been brilliant. This teenagers' adventure park that has been planned is a facility that is much needed and has been talked about for quite a few years.
"In the past six months we have raised the public awareness that this is happening and it has been supported really, really well."
He added: "The cards are being sent all over the world, from Australia to Vietnam, to friends, family and other places we know."
A series of other events have also been held during the day, including a concert and fancy dress party.
The Post Office has sent adjudicators and a file of evidence will be sent to the Guinness organisation for ratification.