Calls for Leicester facility to reopen after murder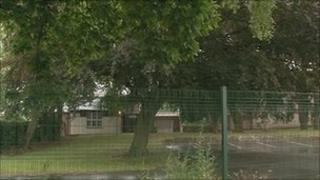 Residents are calling for a Leicester community centre which has been closed since a murder to be reopened.
June Wiggins, 52, was stabbed at the Manor House Neighbourhood Centre in Haddenham Road in November 2009.
People say the community is suffering from the loss of a location for children's activities, courses and training classes.
A meeting has been called to press the issue with the city council, which said it was considering its options.
'Range of options'
Resident Rachel Newbury said: "We are desperate for it to stay open, there is a real need for the facility here and we want it here.
"We have tried to be really supportive with the city council because we know what the financial climate is like.
"We want to work together on this, we are not just making demands, but we have not heard anything from the council."
In a statement, the city council said: "We are currently considering a range of options on the best way of delivering services to people in this area.
"Some discussion has recently taken place at ward community meetings and, once we have some proposals, we will consult the former user groups and local people to find out their views."
In May Steven Budd, 52, from Heyford Road, was jailed for a minimum of 17 years for the murder of Ms Wiggins, his former partner.