Leicester lamp electric shock boy 'saved by shoes'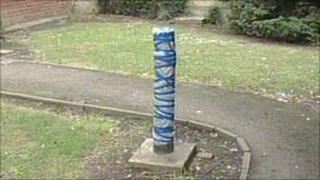 A mother has spoken of her horror at seeing her son get an electric shock from a broken pavement light.
Sarah Stone, of Leicester, said two-year-old Tyler needed hospital treatment to burns after touching loose wires on the 3ft (one metre) high lamp.
She described him as "shaking and screaming" and said she believed his life was saved because the rubber soles on his trainers insulated the current.
The city council said it was conducting a full investigation.
Ms Stone, from Beaumont Leys, described the incident, which happened earlier in the month.
Vandal attacks
"He had his hands clenched round the light, shaking and screaming, and I just went over and pushed him aside," she said.
"There were wires sticking out and there was no broken glass and I looked at his hands which were red.
"I thought 'It has burnt him' and I knew straight away it was an electric shock.
"I was horrified - if he hadn't been wearing the trainers it could have killed him."
She added she was considering legal action against the council.
Other residents in the area said several of the lamps had been broken for years after being vandalised.
All have now been covered with protective plastic.
In a statement the city council said: "We are aware of the incident and have disconnected the lights.
"We have taken a full statement from Ms Stone and are conducting a full investigation."