Alert at Leicestershire aloe vera drink illness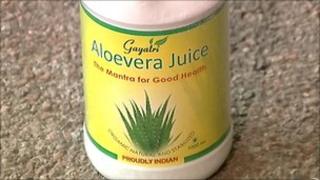 A warning has gone out to avoid consuming a soft drink after two people became seriously ill in Leicestershire.
The female victims, who were taken ill separately during the week, are being treated in hospital.
Health officials are looking at a possible link between the illness and Gayatri brand aloe vera juice, sold in white plastic bottles.
They said one shop had been cleared but they were searching for other stockists.
Tim Davis, from the Leicester City Primary Care Trust, speaking on behalf of the Health Protection Agency, confirmed the problem was "very serious".
He added: "We are very concerned to make sure no-one else puts themselves at risk, if this does indeed turn out to be the source of the problem, which at the moment is the best guess that we have.
"What we would like people to do if they happen to have this product is hang on to it, absolutely not to drink it, but put it somewhere safe out of the reach of children or anyone else."
Sudden collapse
He said both of the women were adults and were being treated for respiratory problems.
Rashmi Joshi, a friend of the family of one of the victims, who have asked not to be named, described what had happened.
"She was fine one moment and then complained of a burning sensation after drinking the aloe vera.
"Just a second after, she collapsed and her husband thought she had gone. But he worked on her until the paramedics arrived and they treated her for 20 minutes before she was taken to hospital."
Samples of the drink, believed to be made in India, have been sent for tests.