Leicestershire toddler praised for fire warning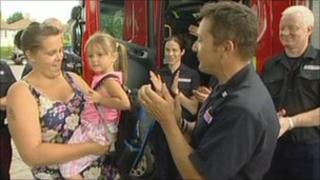 A two-year-old girl from Leicester who alerted her parents when she spotted a fire has received a reward.
Amber Spencer was playing outside with her sister when she saw a section of hedge on fire and alerted her mother and father.
Firefighters from Leicestershire's Western station presented her with some presents for her quick thinking.
Fire crews were called out to a hedge fire on 29 June at 1930 BST.
The fire had started in a pile of dry cuttings from the hedge and had been deliberately set, the fire service said.
A fire spokesman said it was quite unusual for a two-year-old child to alert parents of danger.
The firefighters congratulated Amber and gave her a fire service goodie bag containing toys, stickers, magazines and a Frisbee. She also had a ride in a fire engine with her parents.
"She ran to a neighbour and then to her parents to say a fire had started. They didn't really believe her at first ... but she did the right thing by alerting them," a fire service spokesman said.